Because of COVID-19 restrictions, Amber and Marques were forced to change plans for their dream destination wedding in Jamaica.
Determined to keep their 3.3.21 wedding date, our Elegant Events Planning and Design team continued our work and helped them plan a local, Philadelphia wedding ceremony within the current guidelines.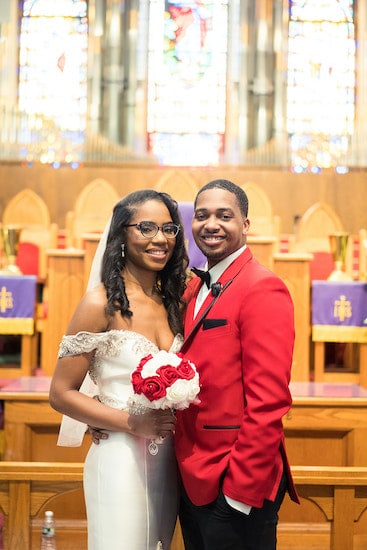 Amber and our Elegant Events owner, Donielle, met growing up in the A.M.E denomination. So, we were particularly excited when the coupe's strong faith (and a little help from our planning team, of course) lead them to get married at their local church with their wedding party and parents in attendance.
Communication Is Key
Under normal circumstances, communication is key when planning a destination wedding out of the country. As you might imagine trying to stay on top of ever-changing regulations and travel restrictions during a pandemic was imperative.
Wedding guests with airline tickets and hotel reservations needed to be updated on any changes and safety protocols. Our team worked with the couple to update their wedding website to keep everyone informed.
Weekday Weddings
It's funny how when you plan a destination wedding, and everyone is on vacation, a Wednesday wedding is no different than a Saturday. It's Island Time!
Determined to keep their 3.3.21 wedding date, we moved ahead with a beautiful intimate Wednesday wedding ceremony.
Off-peak weddings are becoming increasingly popular. With weddings postponed from 2020 planning for 2021 and lots of those prime weekend dates spoken for, we see lots more weekday weddings. Our Elegant Events team's Micro Wedding collections have filled the need for those intimate weddings, especially where couples are looking at weekday events.
An Intimate 3.3.21 Wedding Ceremony
For the ladies, the wedding day began with hair and makeup services. The artists did an excellent job with social distancing and wearing masks while providing hair and makeup services. The bride and wedding party looked amazing.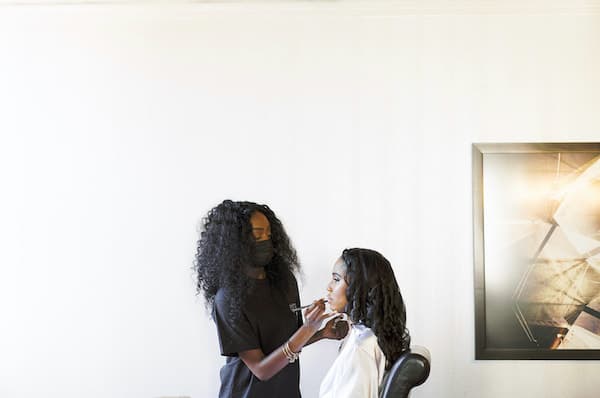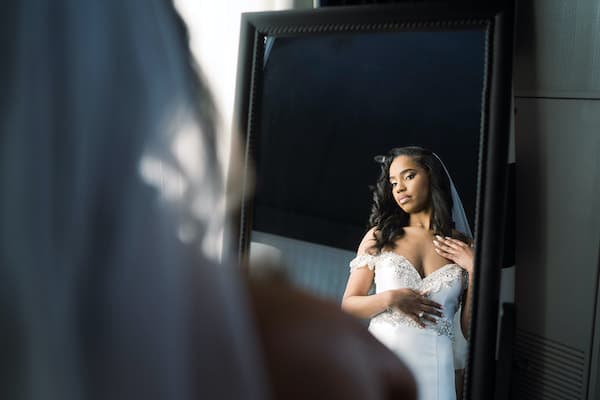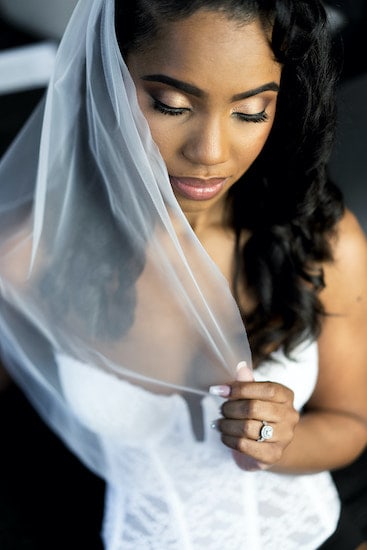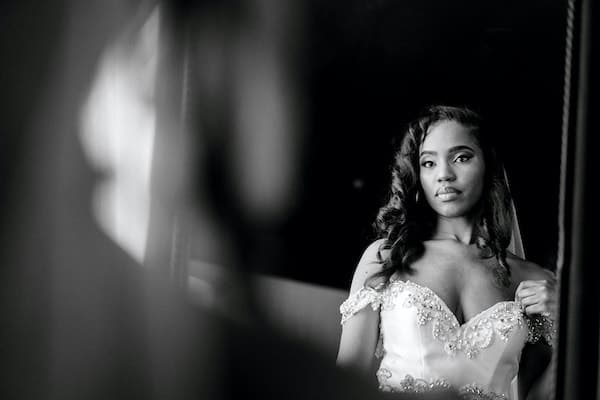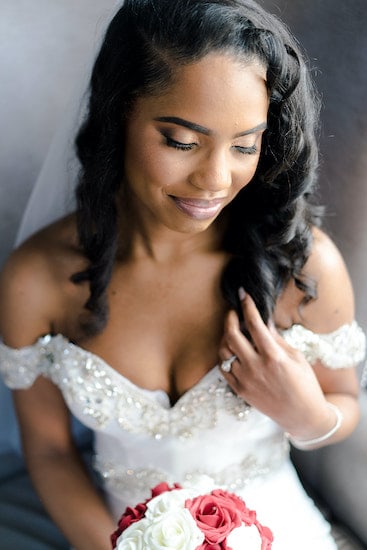 Marques and the gentlemen were transported to the church first, with the limousine returning for Amber and the ladies.
As you might be able to tell, red is Marques' favorite color. He was such a cool groom, not making many requests. He just wanted to include red wherever possible, and it worked out beautifully.
With everyone safely in place, Amber made her entrance to 'Till Death Do us Part' by Brian Nhira.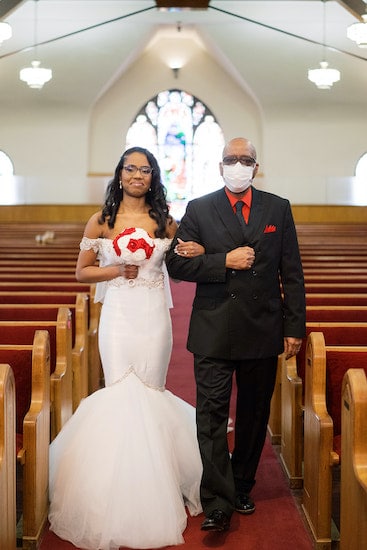 The intimate wedding ceremony included the couple exchanging wedding vows, rings, and a unity ceremony before sealing their vows with a kiss and exiting to 'This Will Be by Natalie Cole.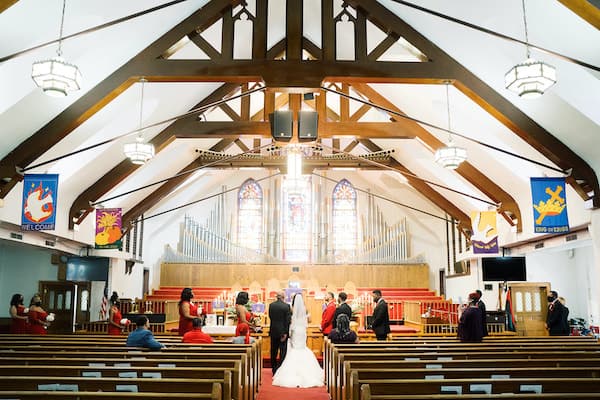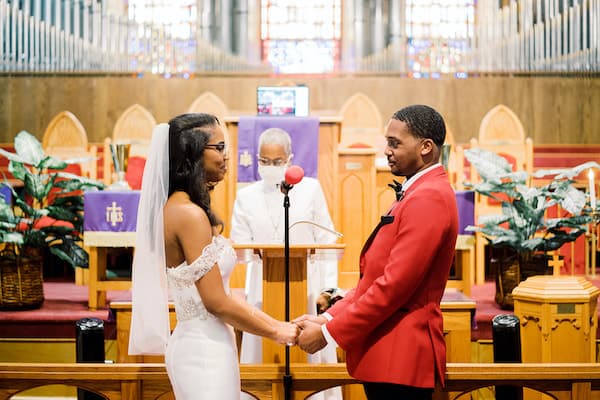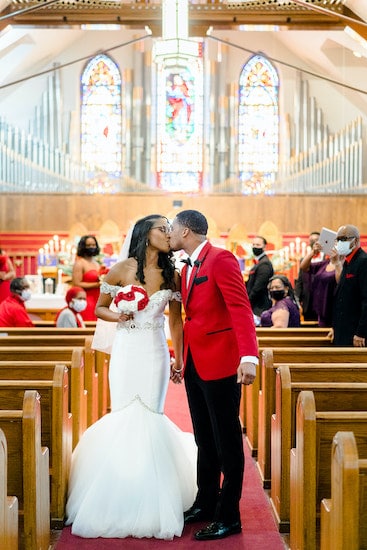 Old City Philadelphia
Following the wedding ceremony, the newlyweds and their wedding party enjoyed some time outdoors taking photos around Old City and the historic Merchant Exchange.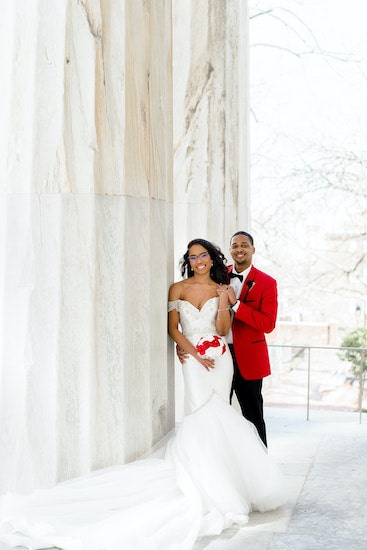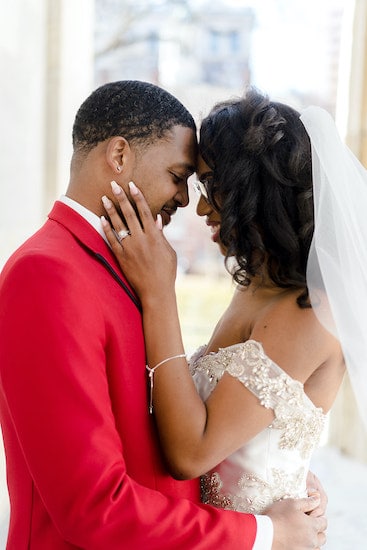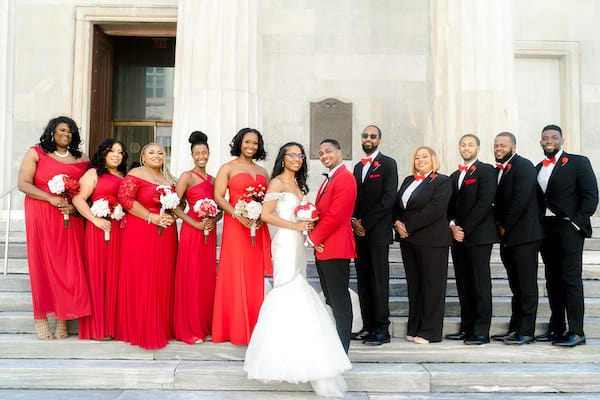 Wedding plans may have changed, but Amber and Marques kept their 3.3.21 wedding day and had a beautiful, touching wedding surrounded by family and close friends.
Congratulations, Amber and Marques!
The Philadelphia Wedding Team
Philadelphia Destination Wedding Planner: Elegant Events Planning & Design
Beauty: Erica Nikole
Beauty: Lavish A Jenée Chanel Salon 
Bridal Party Attire: David's Bridal
Bride Attire: Pantora Bridal
Bouquets: Etsy
Groom and Groomsmen: Iacobucci Formal Wear Inc
Philadelphia Wedding Ceremony: St Matthew A.M.E. Church
Wedding Photography: Anthony Page Photography
Stationery: Basic Invite
Transportation: Limo Today
Hotel Accommodations: The Notary Hotel