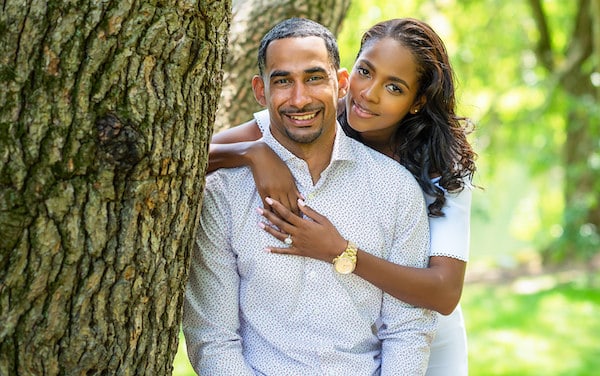 Destinations Unknown
Plans for Ryan and Dino's Arizona destination wedding were well underway. However, as we all know, COVID-19 and local rules and regulations can create changes day by day.
During the final planning stages, Arizona had reduced its quarantine restrictions so that local businesses and restaurants were operating normally. However, we faced drastically different circumstances leading up to the holiday wedding weekend. Businesses were either forced to close or reduce operations to limit contact.
We quickly worked to implement spacing guidelines for ceremony and reception seating. We redesigned the reception to no more than six guests per table. Wedding guests were required to sign a waiver if they declined to answer commonly asked questions about COVID-19 and international travel, and each guest was temperature checked upon entering each event.
Holiday Weekend Wedding
With Ryan and Dino's destination wedding occurring over the July 4th holiday and over fifty family and friends traveling in, the entire weekend became a party.
The arriving wedding party and guests received custom Welcome Bags they checked in to the resort. The wedding party had a private dinner with the couple before the wedding guest's arrival the following day. Friday evening, everyone came together in a beautiful outdoor Welcome Celebration featuring delicious Southwest Appetizers.
Hosting a destination wedding in a spectacular resort offers wedding guests plenty to do and places to explore both before and after the wedding day.
The Wedding Day Arrived
Ryan and her bridal party spent the morning relaxing and having their hair and makeup done and getting ready. The couple each took some time with their wedding parties before heading off for their first look.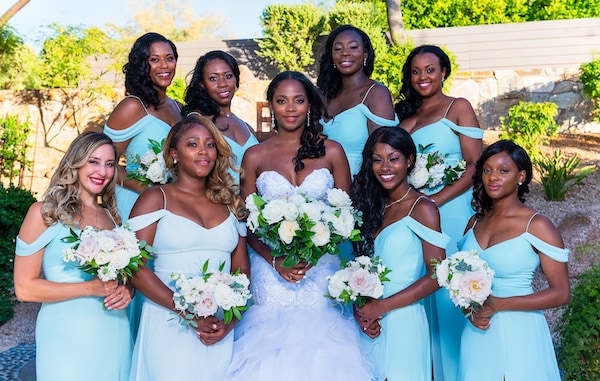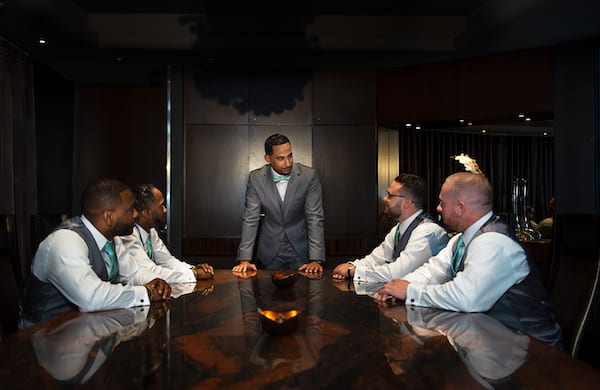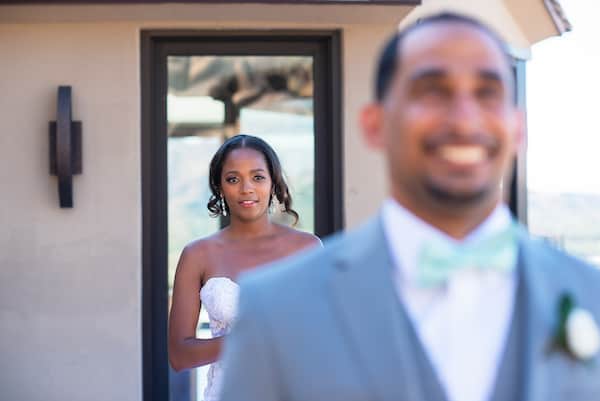 Ryan looked stunning in her flowing organza gown with a sheer lace bodice. She carried a soft cream and blush bouquet of roses and ranunculus with touches of greenery. The bride chose shimmering teardrop earrings, the perfect accent with her hair worn down and accented with a crystal hairpiece.
Dino and the gentlemen chose charcoal three-piece vested suits with teal ties to compliment the bridal parties' dresses.
Paradise Lawn
Paradise Lawn was the perfect name and location for the couple's beautiful outdoor wedding ceremony. The ceremony space views were accented with towering floral arrangements on tall pedestals, three on each side of the couple.
With Dino already in place, the family and wedding party made their entrance. The processional concluded with Ryan being escorted down the aisle, by her uncle, to an instrumental version of "A Thousand Years."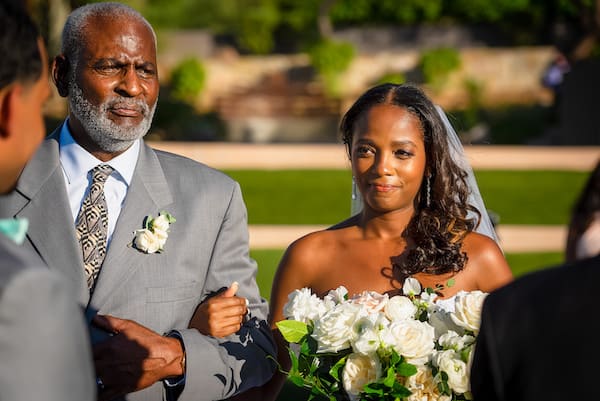 One of the most touching moments of the wedding ceremony was when the bride's late father was acknowledged. Ryan's brother carried in the folded veteran flag to be placed in the front row to honor his memory.
Shimmering Silver
While wedding guests relaxed and enjoyed delicious hors d' oeuvres, cocktails, and views from the terrace, the newlyweds snuck off for some incredible sunset portraits.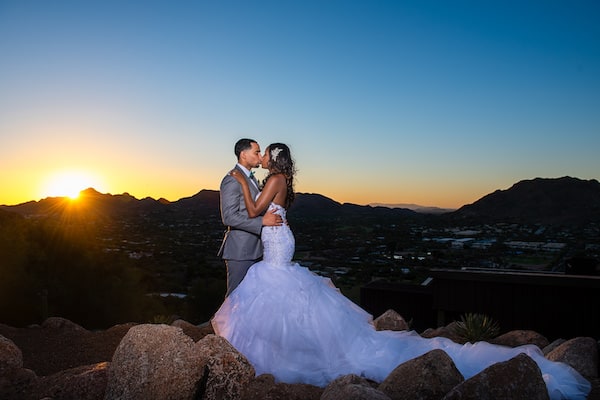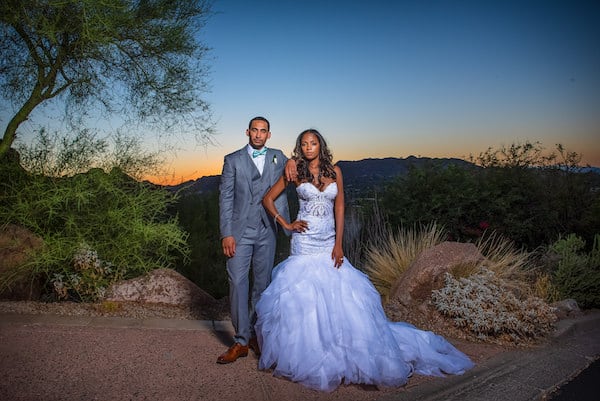 Inside the Views Ballroom, final details were checked. Silver chairs were placed around tables set with clear glass charger plates with beaded silver edges. Grey napkins with custom menu cards tucked inside, and an eclectic mix of floral arrangements completed the look.
The family and wedding party's entrance led to introducing the newlyweds and their first dance to "Ribbon In The Sky" by Stevie Wonder and "Beautiful" by Musiq Soulchild.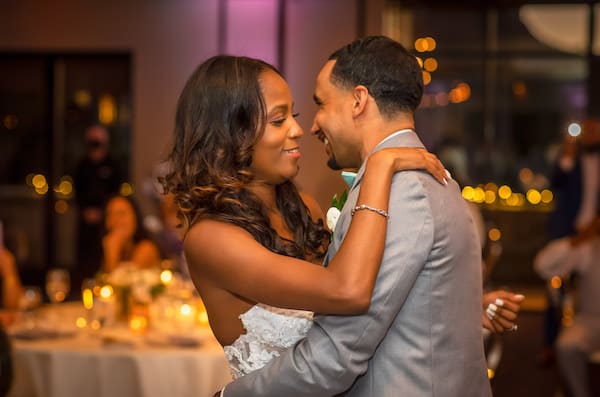 The reception was filled with touching toasts by the Best Man and Maid of Honor, a delicious dinner of Chilean Seabass and Filet of Beef, and a traditional bouquet toss to "Single Ladies" by Beyoncé.
To see more images of this amazing Arizona Destination Wedding be sure to visit the Micro-Wedding feature in our Portfolio's Real Wedding Gallery.
Congratulations, Ryan and Dino!
We're thrilled that would Elegant Events team was able to be part of this incredible Arizona destination wedding. We wish you a lifetime as magical as your wedding day!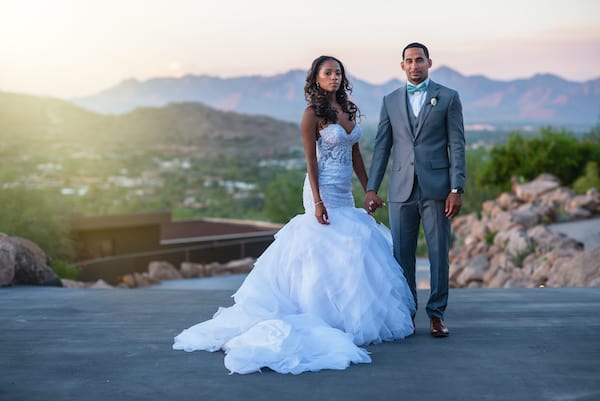 Destination Wedding Professionals