In our last Elegant Event blog post, we shared Anna and John's beautiful Penns Landing wedding.
We also mentioned that our Elegant Events Planning and Design team worked with John's sister Claire and her groom-to-be, Ritam.
So, now it's Claire and Ritam's turn! And we are beyond excited to share their beautiful South Jersey wedding!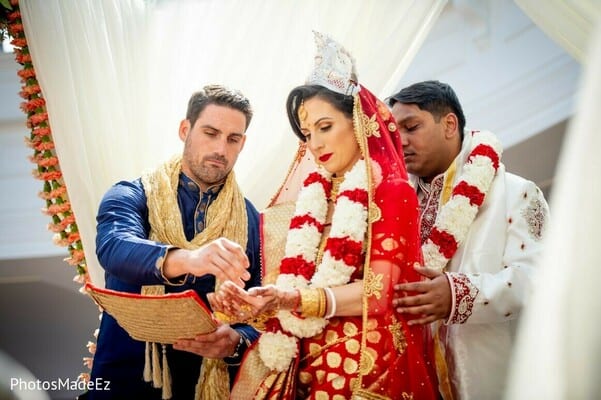 This multi-cultural wedding incorporated a traditional Hindu wedding ceremony, luncheon, Christian wedding ceremony, and reception with dinner and dancing. It made for quite a long day for the couple, but the day was spectacular, as you'll see from the photos.
Getting Ready and the Couple's First Look
The day began quite early for Claire and the wedding party with breakfast, hair and makeup, and getting ready.
Claire looked stunning, wearing fresh jasmine flowers in her hair, a traditional red wedding sari, henna, and spectacular gold jewelry.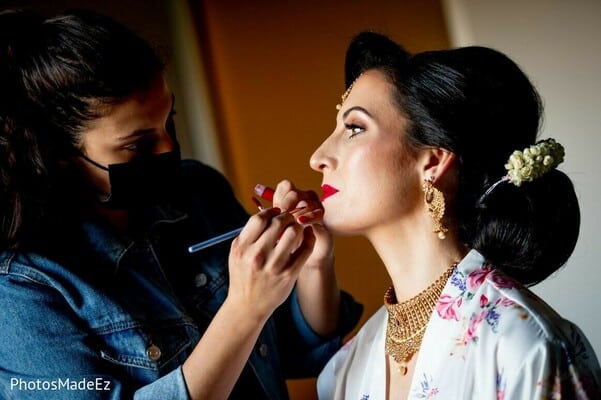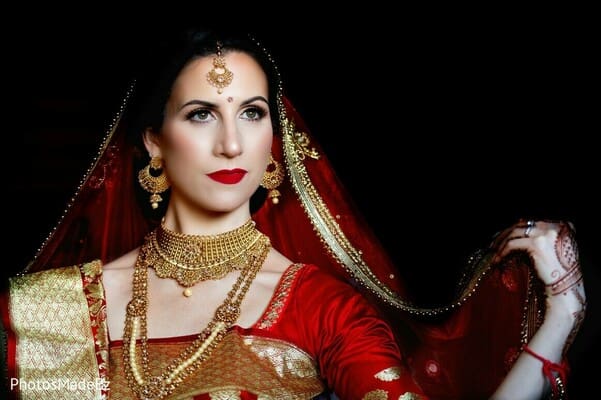 After spending the morning apart, the couple each made their way to The Merion, where they had their first look and a little time together before the day's events began.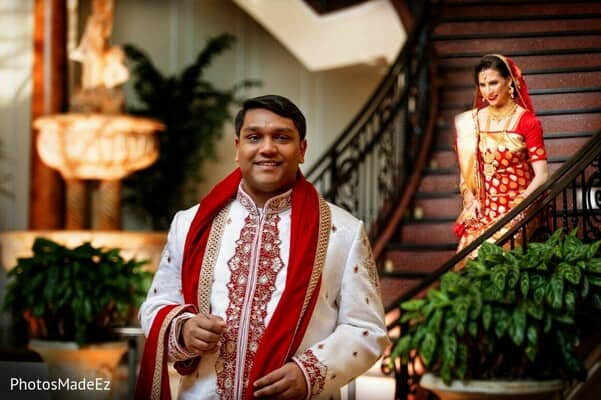 Baraat
As guests began to arrive, Ritam headed off to make his formal arrival or baraat. Escorted by family and friends, he was ushered into the ceremony site with music and chanting.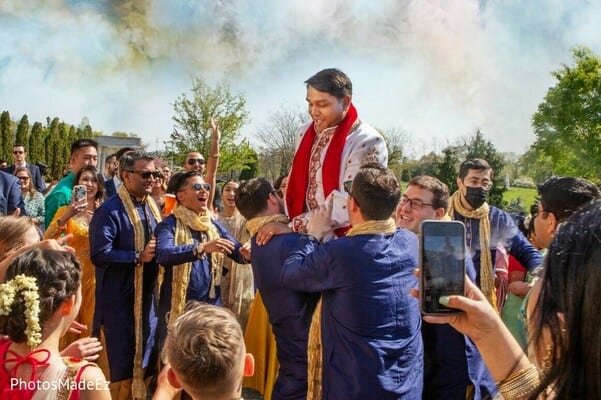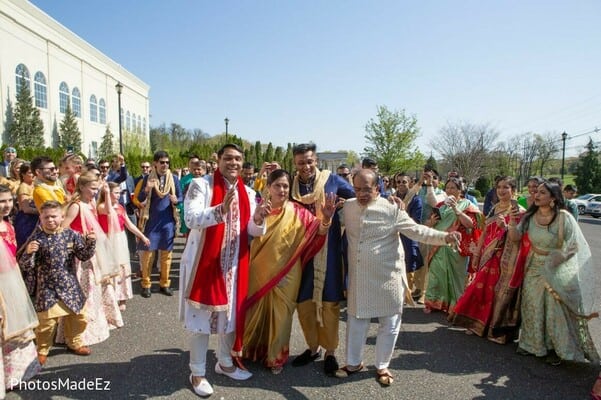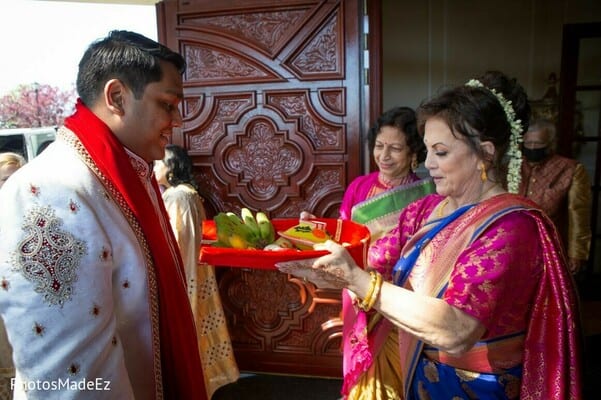 Under a Bright Blue Sky
Inside the venue's Skylight room, the preparations were all in place for the Hindu wedding ceremony. After Ritam's arrival and several rituals, Claire made her entrance. Carried on a wooden plank called a piri, Claire was carried by men in her family while shielding her face with betel leaves.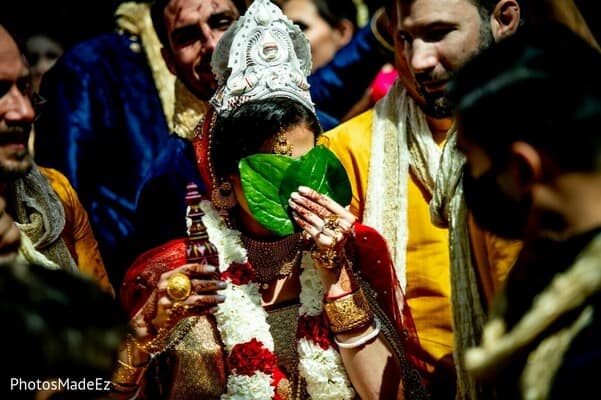 Under a beautifully decorated mandap, the couple participated in traditional rituals that included their parents with her brother John participating.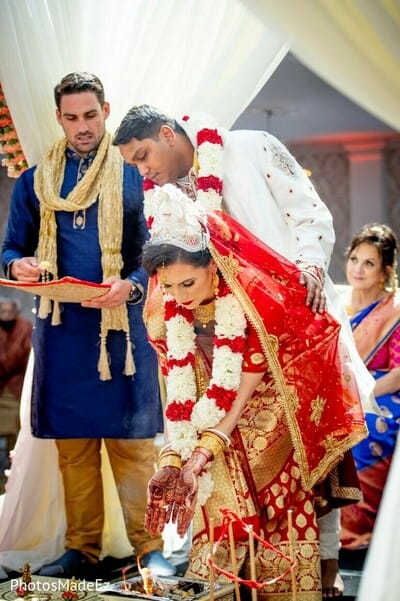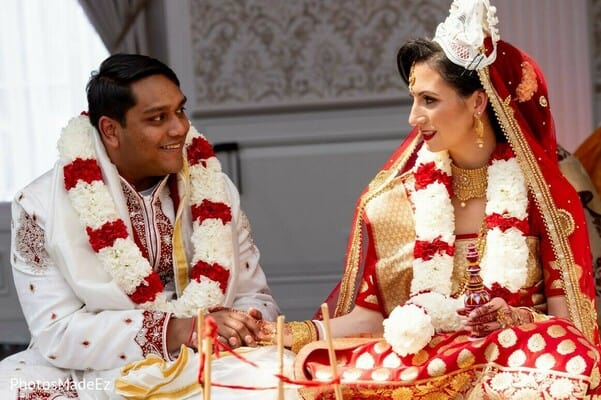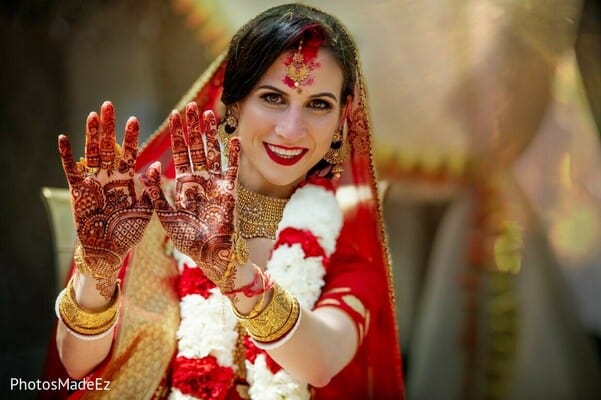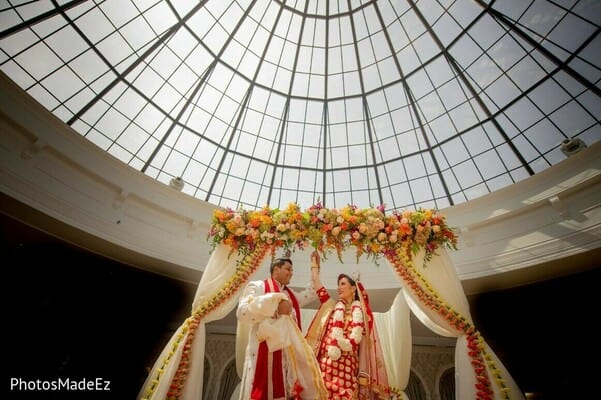 After a delicious lunch reception, the couple and their guests had the afternoon free before returning for an evening Christian wedding ceremony and reception.
Falling In Love
Following the afternoon's events, the bride returned to her parent's home for some quiet time and to change for the evening events.
At the wedding venue, everything was in place for a beautiful garden wedding ceremony. Claire made her entrance to "Can't Help Falling In Love," escorted by her father.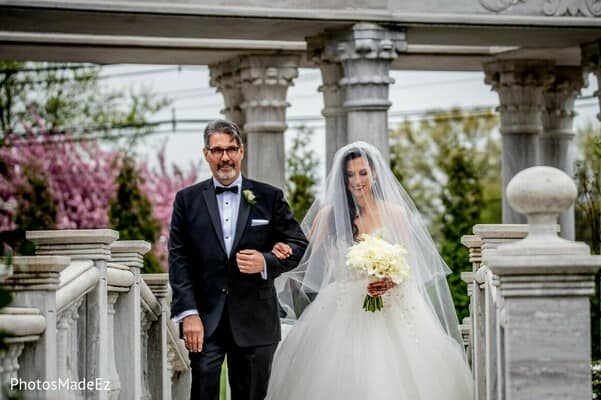 Surrounded by family and friends, the couple exchanged wedding vows before heading off for family photos and a cocktail reception.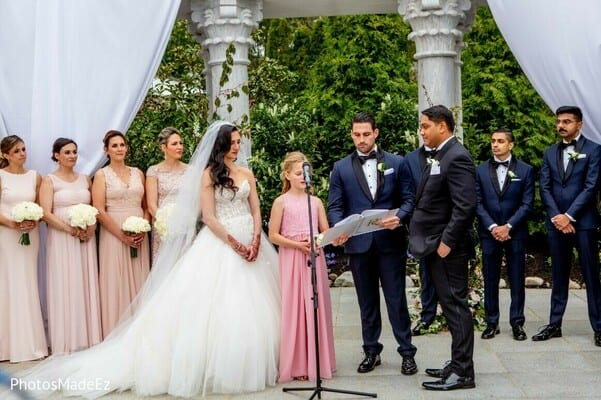 Dinner and Dancing
The South Jersey wedding venue's Palazzo Ballroom was washed in beautiful decorative lighting. Long banquet tables were dressed in rich colored linens, set with gold charger plates and floral centerpieces surrounded by candles in hurricane globes.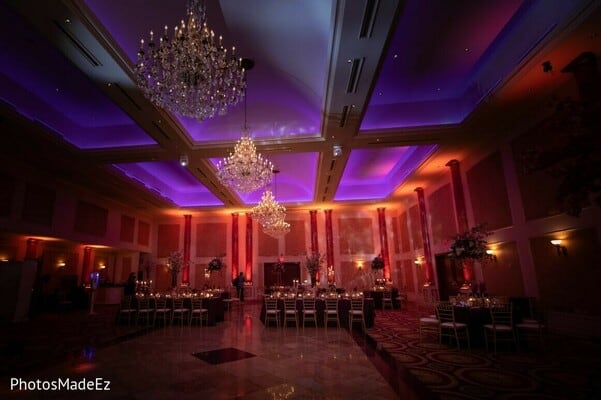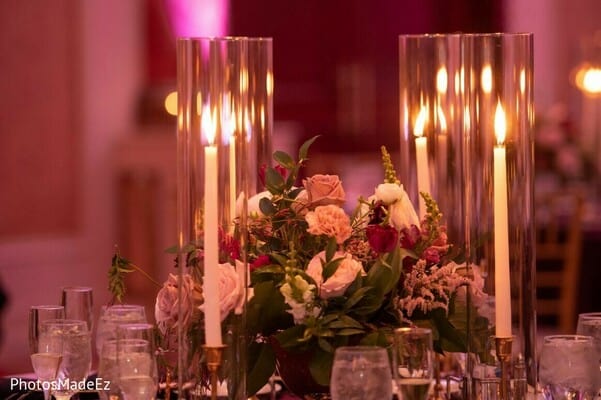 Following introductions, the newlyweds took to their dance floor for their first dance and husband and wife to "Conversations In The Dark" by John Legend. The evening was filled with beautiful speeches, delicious food, and plenty of dancing!
Congratulations, Claire and Ritam! We wish you much happiness.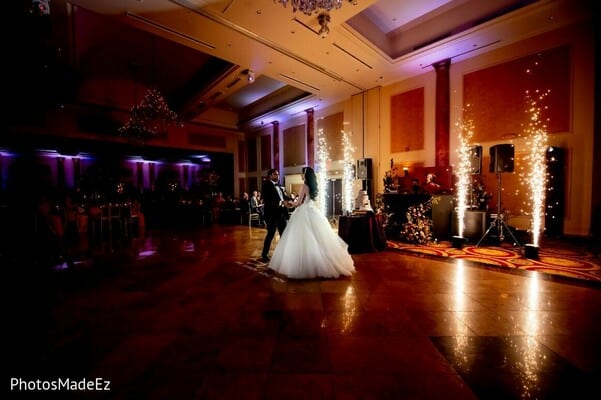 The South Jersey Wedding Team
South Jersey Indian Wedding Planner: Elegant Events Planning and Design
South Jersey Wedding Venue: The Merion
Catering: The Merion
Beauty: Lady Chebli
Entertainment: DJ Sunny Entertainment
Floral Design: Petals Lane
Wedding Officiant: Bride's Brother
Photography / Cinema: Photos Made EZ
Rentals and Décor: House of Catherine
Transportation: Imagine Lifestyles Luxury and Exotic Rentals NJ
Transportation: Ace Limousine Service
Hotel Accommodations: Aloft Mt. Laurel
Hotel Accommodations: Westin Mt. Laurel