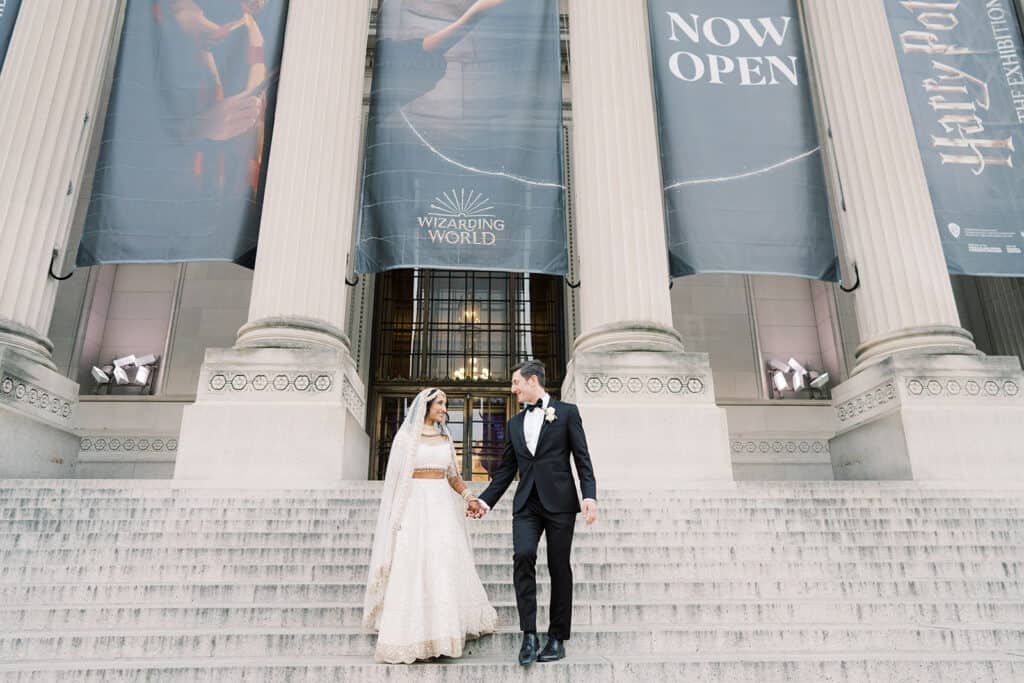 The Elegant Events team had the best time planning Neha and Eli's elegant Franklin Institute Philadelphia wedding. We loved helping the couple include both Hindu and Jewish traditions in their celebration for a stunning, multicultural wedding.
It was easy to see how enamored these two are with each other. Neha's excitement was evident by the radiant smile she carried with her throughout the day. And Eli couldn't stop beaming at his gorgeous bride.
To personalize their day, Neha designed all of the day-of stationery including the programs, drink signs, table numbers, and welcome signs.






Neha, Eli, and their wedding attendants spent the morning getting ready at Hilton Philadelphia Penn's Landing. The gentleman donned their tuxes, enjoyed a few snacks, and had a pre-celebratory drink. 






Neha and her bridesmaids received henna two days prior to the ceremony. Henna is an important tradition in Hindu weddings, and can symbolize beauty, joy, and spiritual awakening. One legend notes that if the bride's mehndi produces a dark color, the deeper the bond between the bride and her husband. Cheers to many years of love for Neha and Eli!




After getting dressed in her breathtaking gown, Neha was bejeweled with an intricate necklace, bracelets, and head adornment as part of her wedding day attire. The green accents in her jewelry traditionally symbolize good luck and fertility.  




Emotional First Looks
Neha's first look with her father brought the entire room to tears. Dad was overjoyed to see his daughter in her wedding gown and held her tightly during a beautiful and emotional moment.


Neha and Eli shared an intimate first look tucked away in a quiet spot at Spruce Street Harbor Park. It was easy to see how much they adore each other, especially in this sweet moment before their ceremony.




The couple took advantage of the beautiful day and posed for photos along the harbor.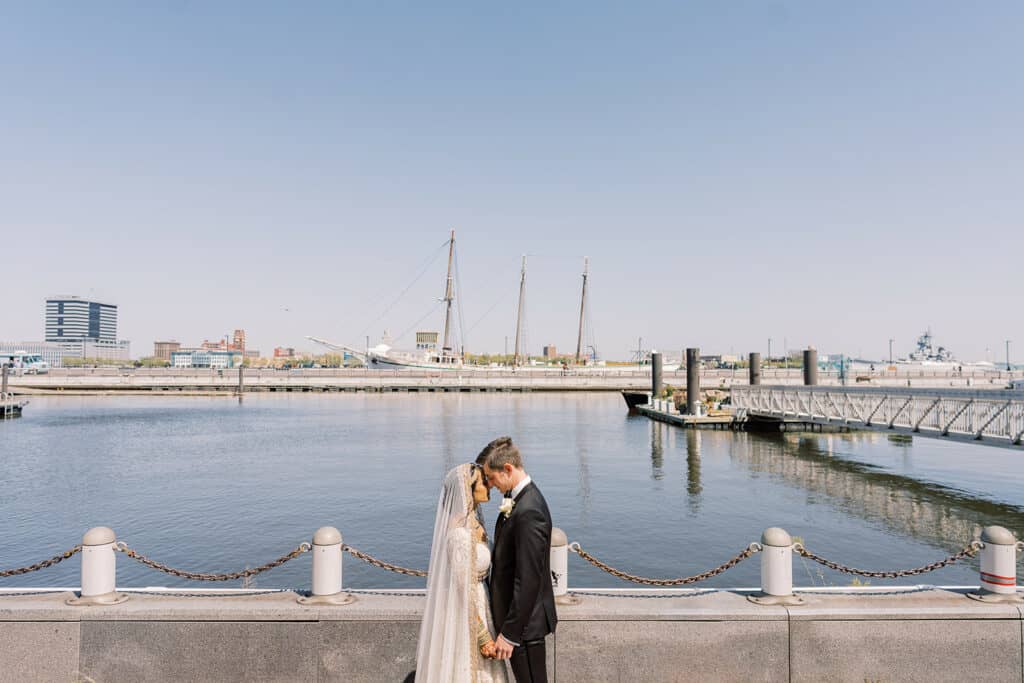 Rodin Museum Wedding Party Photos
The highlight of the couple's pre-wedding photos was their time spent at the Rodin Museum with their bridal party. Neda and Eli selected the Rodin Museum for its beauty and history.
Situated along the Benjamin Franklin Parkway, the Rodin Museum is home to the largest collection of art by French sculptor Auguste Rodin. The museum is a highly sought-after wedding photo location for its stunning architecture and historic structures.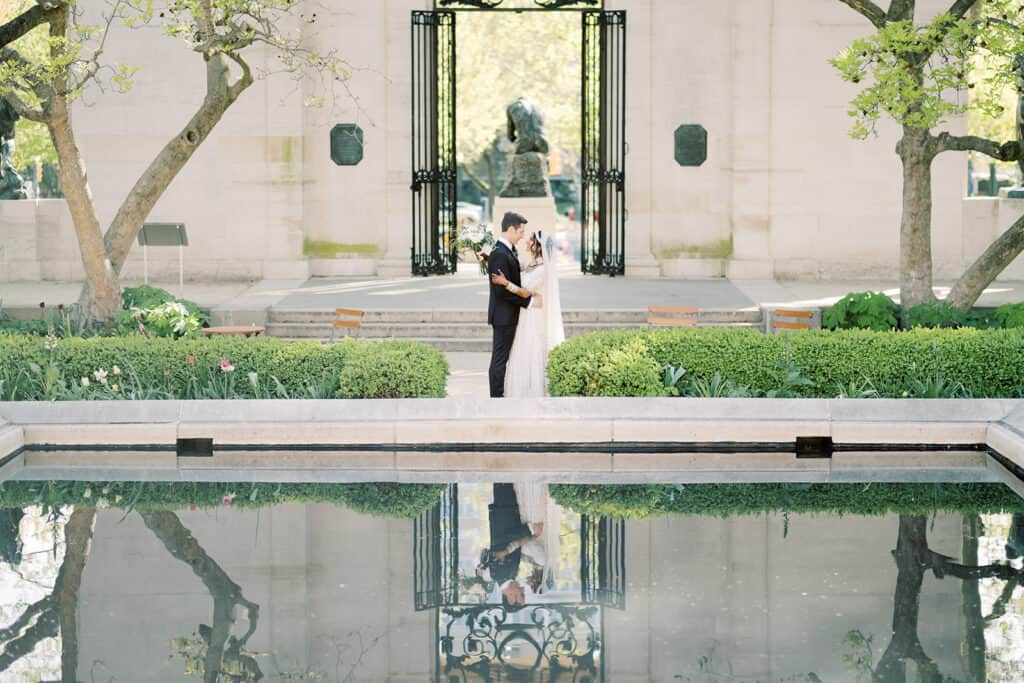 Neha and Eli's Franklin Institute Wedding Ceremony
The couple's Franklin Institute wedding ceremony was held in the Pepper Hall and Patient Library. The room features mahogany bookshelves, antique wood floors, and large windows providing a stunning view of the city. 




 The couple customized their unforgettable fusion wedding ceremony with a perfect balance of both Hindu and Jewish rituals and sprinkled in a few new traditions of their own. Neha's brother and Eli's brother served as celebrants for the ceremony.




The couple was married under a stunning mandap adorned with drapery, white flowers, and greenery. In Hindu weddings, the mandap serves as a sacred space for the couple during their ceremony. 




Two Families Come Together
Family is incredibly important to the couple. This was evident as their brothers served as celebrants, during their parent speeches, and as Eli's aunts and uncles performed the Jewish Havdalah blessings.
The celebration moved to the Benjamin Franklin National Memorial and Jordan Lobby for the reception. This Franklin Institute wedding venue is framed by 16 dramatic marble columns and features a 20-foot-tall statue of Benjamin Franklin.






For the reception, Neha changed into an elegant, one-shoulder wedding dress.


The rooftop deck has a breathtaking view of the Philadelphia skyline.  Encouraged by our planning team to capture some sunset rooftop images, Neha and Eli took advantage of some amazing photos.




Neha and Eli continued their fusion wedding with the hora, a traditional Jewish wedding dance. The couple was hoisted into the air on chairs while family and friends danced around them in celebration.


During the reception, Neha and Eli snuck away to take several sweet photos in front of the Giant Heart exhibit.  The couple and their guests had a blast dancing the night away and indulging in desserts in the Your Brain exhibit.  As medical professionals, Neha and Eli, selected The Franklin Institute specifically for those special moments in the exhibits.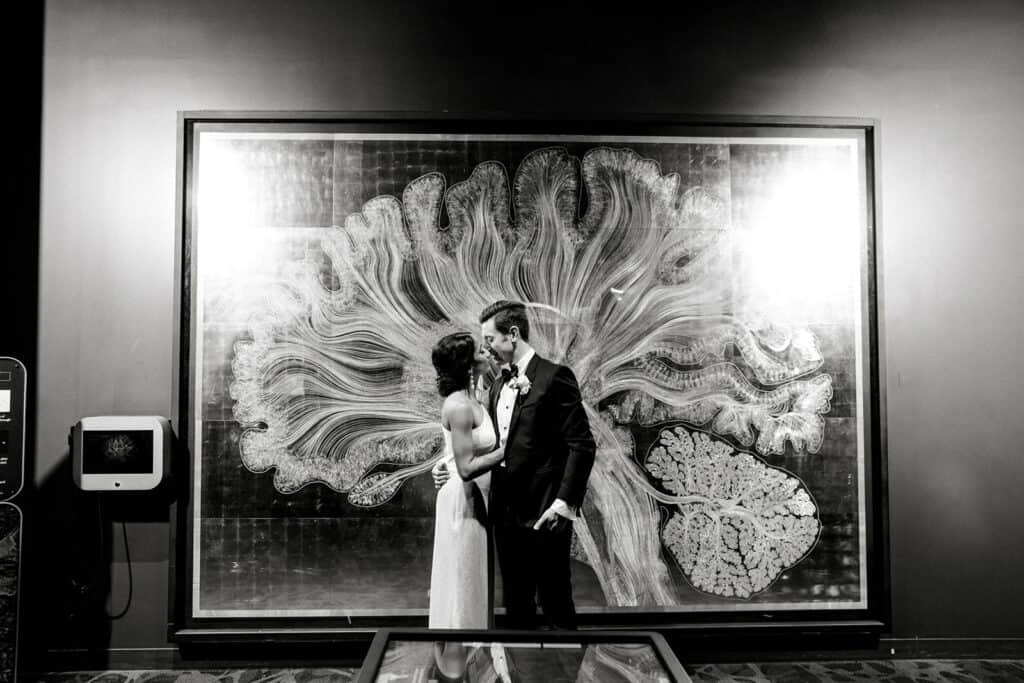 After their Franklin Institute Philadelphia wedding, Neha, Eli, and many of their guests kept the party going after hours at Yoro at Vesper. 
From the bride about her experience with Elegant Events
"We are so happy that we had Donielle and the Elegant Events team backing us for our non-traditional, large, multicultural wedding in Philly this Spring! We both lead very busy lives, and relied on Donielle every step of the way in our planning process. She was patient with us, helped us find the perfect vendors, and talked through countless details and scenarios so we felt ready for our weekend. When the big day came, her team stayed calm and on top of all of the details (despite some unintended hiccups that were out of their control) and made sure we had the best night. We are so grateful for everything Donielle and her team have done for us, and will cherish our wedding forever!"
Franklin Institute Philadelphia Wedding Vendor Team
Philadelphia Wedding Planner: Elegant Events Planning & Design (specialists in Indian and multicultural weddings)
Beauty: Beautiful Brides Philly
Catering: Isgro Pastries, Essen Bakery, Chand Palace, and Moghul
Cinema: Well Spun Weddings
Entertainment: MVP DJs
Henna: Henna by Arunika
Florals: Abhishek Decorators
Photography: Anthony Page Photography and Rodin Museum
Stationery: Minted
Transportation: Go Global Limo, Cooper Limo, and David Thomas Trailways
Venue: The Franklin Institute, and Hilton Philadelphia at Penn's Landing
Wedding After Party: Yoro at Vesper