Step into a breathtaking haven of art and architecture when you decide to host a Rodin Museum wedding. As Philadelphia wedding planners, we believe that the Rodin Museum is one of the most fascinating wedding venues in the city.  This stunning venue will make you feel like you've been transported to Paris.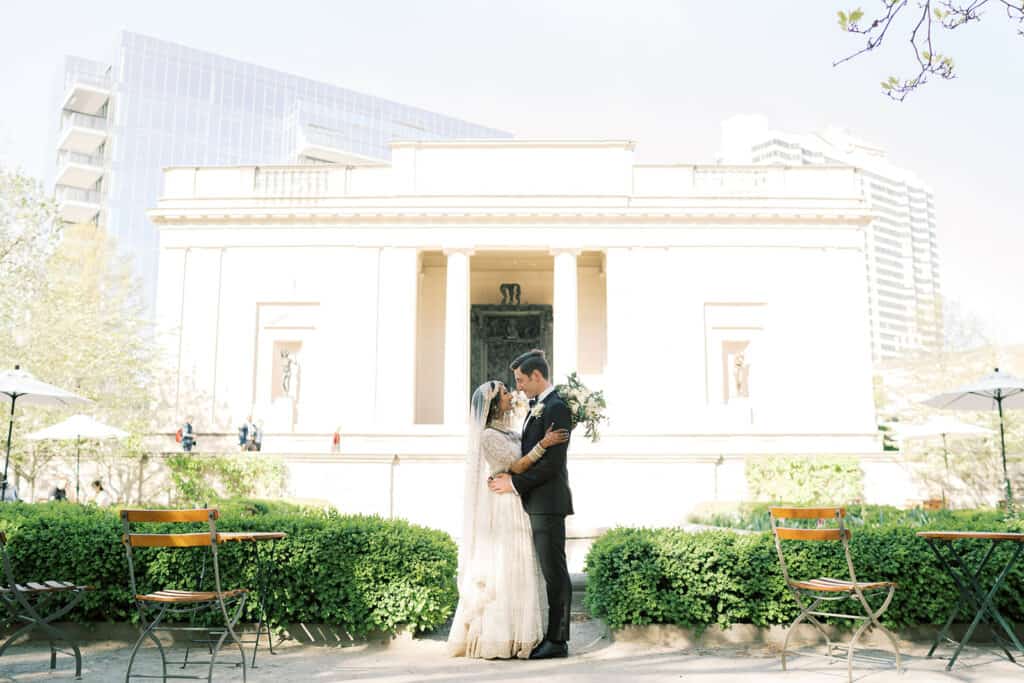 Located off Benjamin Franklin Parkway at 22nd street, the Rodin Museum is perfect for the couple who loves grand architecture and historic artwork. Or for anyone who is looking for a showstopping backdrop for their wedding photos.
The Philadelphia Museum of Art has administered the Rodin Museum and its collection. Keep reading to find out more about hosting your wedding at this hidden oasis in the heart of Philadelphia.
Photos at the Rodin Museum
The Rodin Museum is a highly sought-after wedding photo location, and it's easy to see why. As soon as you step onto the grounds, you're surrounded by striking artwork and immaculate gardens.
Our couple Neha and Eli stopped by this beautiful museum on their wedding day. They spent time posing for pre-wedding photos in various locations throughout the Dorrance H. Hamilton Garden.








We're confident these shots are some of their favorites in their wedding album. We were especially enamored with the photo of Neha and Eli by the reflection pool. It takes our breath away.






The museum's interior features intricate flooring, vaulted ceilings, skylights, and large windows that let in an abundance of sunshine. Venture inside for more photos with Rodin's famous artwork. "Eternal Springtime," and "The Kiss" are a few well-known pieces that celebrate love.
Your Rodin Museum Wedding Ceremony
The Rodin Museum isn't just for stunning photos but is also a fabulous setting for your ceremony. Host your ceremony outside near the stunning reflective pool and manicured garden. Many couples choose the grand iron gates of the museum entrance as their backdrop, with guests sitting on either side of the reflective pool.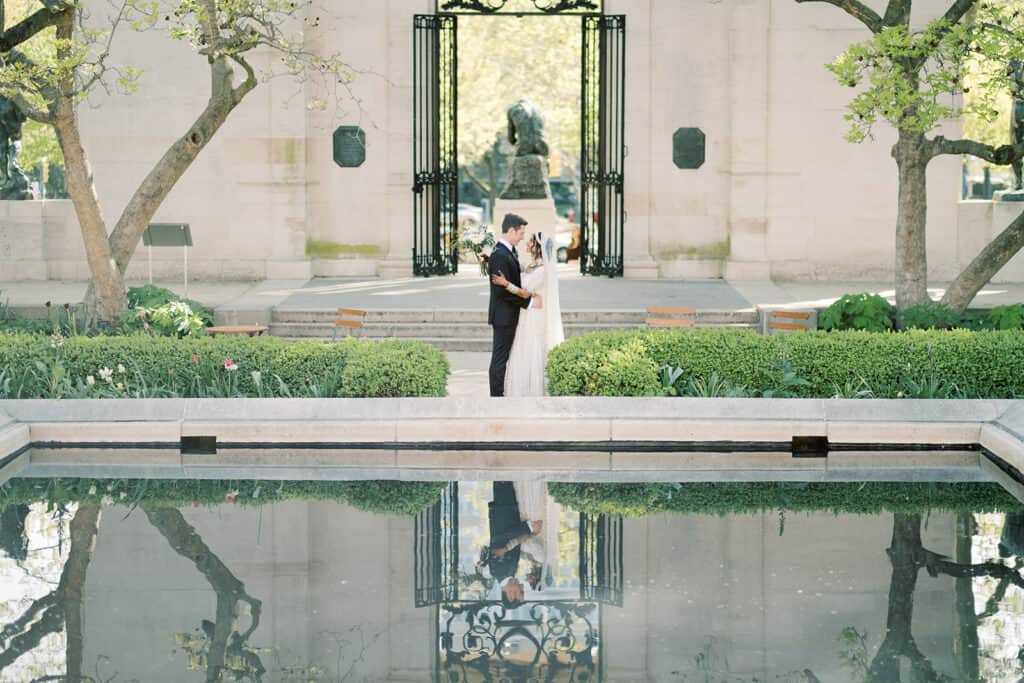 You can also opt to hold your Rodin Museum wedding inside surrounded by the sculptures in natural lighting. The museum can accommodate 125 guests inside or outside for a ceremony.
Your guests will be in awe when they arrive for your wedding. As you make your way to the museum, lush greenery and tall trees come into view. "The Thinker," one of Rodin's most well-known works, welcomes guests as they approach the entrance.


A Reception to Remember
After your ceremony, guests can enjoy cocktail hour while admiring Rodin's sculptures. Host cocktail hour inside or outside depending on the weather and time of year. Either location provides a lovely space for your guests.
Your Rodin Museum wedding reception can also take place in the museum or garden. Inside the museum, the striking artwork serves as part of your décor. Play on the Breaux-arts style of the venue with gold accents and décor that won't outshine the sculptures. 
For a late spring or summer wedding, dine al fresco with your guests in the Dorrance H. Hamilton Garden. The Rodin Museum can accommodate 60 guests for a seated dinner inside the museum or in the garden.
Plan Your Rodin Museum Wedding
Interested in booking a Rodin Museum wedding? Contact our planners at Elegant Events to start planning your special day. 
Want more inspiration?  Check out our article on the 10 Best Philadelphia Museum Wedding Venues