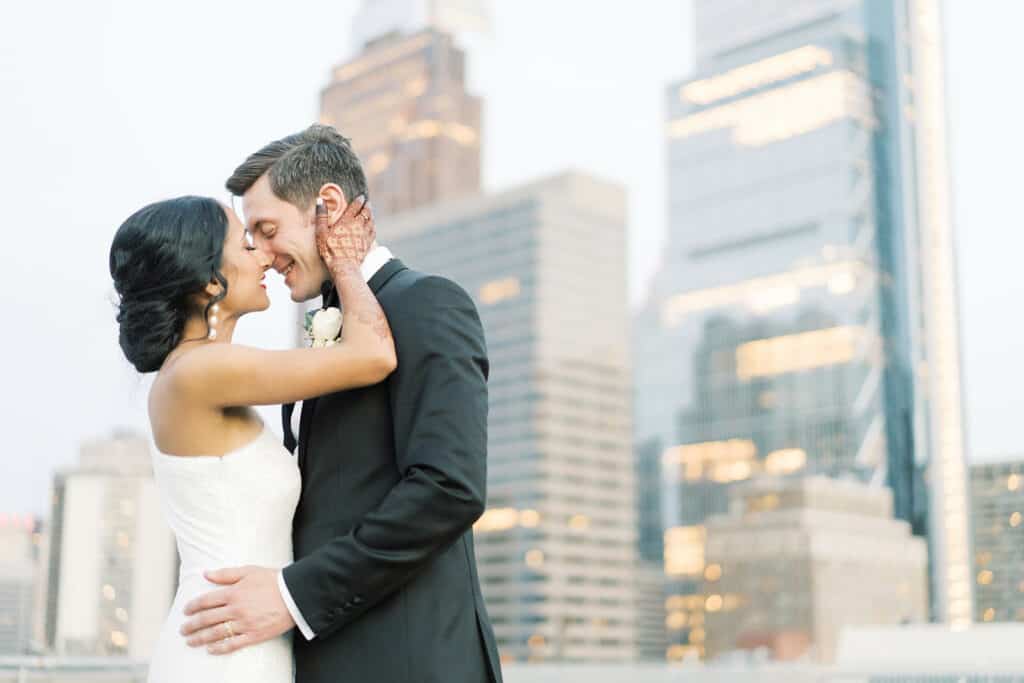 Philadelphia is home to some of our country's richest history. So it's no surprise that some of the best places to tie the knot here is at one of the many Philadelphia museum wedding venues! As Philadelphia wedding planners, museum weddings are some of our favorites.
We have hand-selected some of the most notable museums in the Philly area for our top museum venues list, including modern art galleries, historical locations, and everything in between. So, if you've been looking for the best Philadelphia museum wedding venues, here they are:
Philadelphia Museum of Art
Grand, sweeping architecture defines the ornate main building of the Philadelphia Museum of Art, the perfect wedding venue for a couple looking to make a beautiful, bold statement.
Located at the end of Philly's most cultured boulevard, Benjamin Franklin Parkway, this inspiring century-old building is one of the largest museums in the country. It houses tens of thousands of breathtakingly beautiful art pieces that will be an unforgettable backdrop for your special event.
And the excitement doesn't just happen indoors, either; step outside and you can climb the famous steps seen in Stallone's movie Rocky and take in a view of the vibrant Philadelphia skyline.
With both indoor and outdoor spaces available and plenty of room for creativity, this versatile venue can easily become whatever you want it to be. A little décor can easily transform the space into something magically whimsical, edgy and modern, or classically romantic, making this the perfect place to create the unique wedding you've been dreaming of.
An extra touch: Step into the stunning Great Stair Hall and share your first dance as newlyweds in front of the iconic golden Diana statue.
The Franklin Institute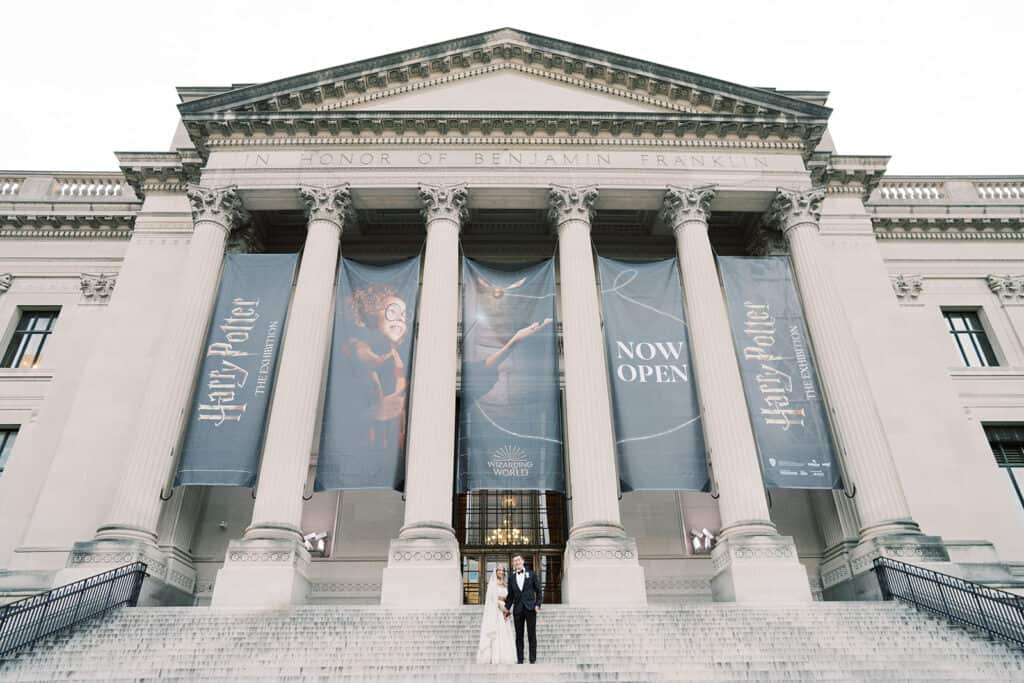 Serve lunch in the sky, say "I do" among the stars, or have your reception at the feet of one of the nation's founding fathers, Benjamin Franklin. You can do all of this and more at The Franklin Institute.
Overlooking the iconic Benjamin Franklin Parkway, The Franklin Institute is a wonderful mix of historic sophistication and modern science.
From cozy receptions in historic Pepper Hall to celebrations in the iconic, columned rotunda, this museum has something to interest everyone. This particular venue has several different spaces available, including the Rooftop Deck, Fels Planetarium, and Benjamin Franklin National Memorial Hall. In addition to these dedicated wedding spaces, your guests will also enjoy exploring the interesting and immersive exhibits throughout the building.
Whether you're planning for 30 guests or 300, this venue offers the perfect place to deliver your vows. You can find this stunning museum overlooking the iconic Benjamin Franklin Parkway.
An extra touch: Light up your night in style with the venue's inclusive lighting package — and don't forget to take a photo next to Philly's famous Giant Heart while you're here.
Penn Museum
Elegant architecture, stunning skyline views and an eclectic collection of art — that's what the Penn Museum has to offer. From intimate weddings on the Rooftop Terrace to grand-scale celebrations under the 90-foot dome of the Chinese Rotunda, this museum offers more than seven different indoor and outdoor venues for your big event.
Built in the 1890s and located on the campus of the University of Pennsylvania, this venue houses hundreds of unique artifacts that will help make your special evening a night to remember.
And best of all, this is one of the most versatile venues on our list! Whether your wedding style is romantic and airy or you want to capitalize on the historic and unique elements of the museum, you'll find the perfect space right here.  The Penn Museum offers multiple garden venues, galleries, and a rooftop venue.
An extra touch: Looking for a way to entertain guests before or after the big day? The Penn Museum offers fun, creative party packages — perfect for the wedding party or for out-of-town guests looking for something exciting to do.
Please Touch Museum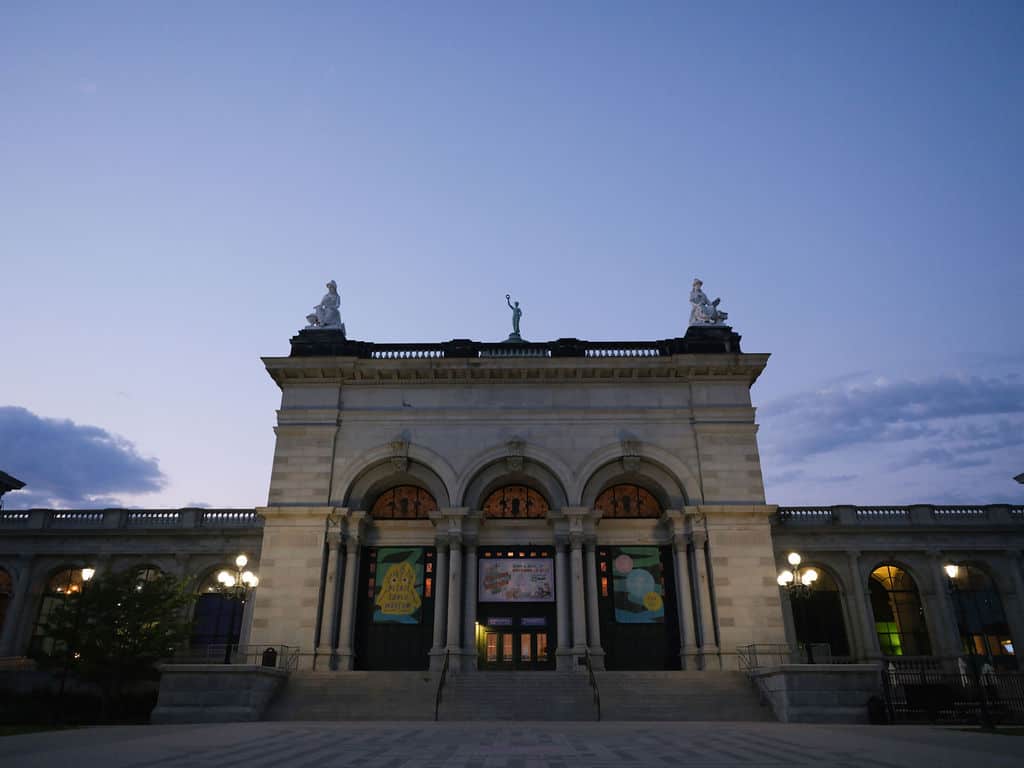 A wedding with whimsy? That's what you'll get when you book this one-of-a-kind venue. Located only a few miles from the Schuylkill River, the Please Touch Museum has been inspiring children (and adults!) since 1976, and this award-winning museum is still delighting families today with its fun and education exhibits.
But this museum isn't just for kids; there are plenty of spaces perfect for a wedding. The South Foyer and Hamilton Hall provide engaging spaces for exchanging vows, receptions, or dinners. And there are plenty of places for unique photo ops, including the Wonderland-themed East Gallery, a miniature city in the West Gallery, and — of course — the 1924 Dentzel Carousel.
This roomy venue can house an impressive number of guests in its various spaces — or you can go all out and book the entire museum for your guests to explore and enjoy.
An extra touch: If you're seeking event times outside of normal closing hours, don't worry; the PTM museum offers early closures on select dates.
See more of Stephanie and Corey's Please Touch Museum wedding, planned by Elegant Events Planning And Design
The Mütter Museum (College of Physicians of Philadelphia)
One of the most unique Philadelphia museum wedding venues, the Mütter Museum isn't home to impressionist artwork or delicate sculptures; instead, you'll find a variety of exhibits designed to celebrate and educate guests about the miraculous human body.
Created in 1787 to aid in the study of medicine, the Mütter Museum houses several permanent exhibitions such as the Hyrtl Skull Collection, the Soap Lady and the Jackson Collection. The bold, gothic building wows with a variety of beautiful features, including a grand staircase, an impressive library, and a gorgeous ballroom. And, of course, we can't forget to mention the outdoor area, where deep red bricks and vibrant green plants create the perfect spot for snapping some pictures.
While this venue may be untraditional, it lends itself perfectly to anyone looking for a unique, quirky or gothic-inspired wedding that's sure to be talked about for years to come.
An extra touch: Learn more about the museum exhibits from a docent-led tour; and, if the weather allows, be sure to take a stroll around the Medicinal Herb Garden.
Museum of American Revolution
Grand architecture and patriotic spirit dominate this museum, which is dedicated to sharing the history of the American Revolution. This venue is perfect for a couple who's searching for classic elegance and exciting exhibitions.
Step out onto one of the balconies for some stunning pictures to commemorate your day, make your grand entrances on the sweeping staircase, and wander through the exhibits while enjoying cocktails. There's nothing that this venue doesn't offer, from beautiful photo ops and delicious catered food to fun exhibits and easy access to Old City District.
Located in the Old City Historic District of Philly, the Museum of American Revolution sits mere minutes from other famous must-see sites such as the National Constitution Center, the Liberty Bell, and the Benjamin Franklin Museum — perfect for any couple that loves history.
An extra touch: This site makes it easy for all of your guests to get to where they need to go with an onsite shuttle service, valet parking, and wheelchair access.
Pennsylvania Academy of Fine Arts (PAFA)






Founded in 1805, this historic location is known as the first art museum in the U.S. and currently houses an art school as well as a unique art collection.
Choose from the Modern Samuel M.V. Hamilton Building with its clean lines and open space or the Historic Landmark Building with its intricate Gothic style, and then let your guests explore the rest of the museum to their heart's content and enjoy the gorgeous artwork and exhibits as they celebrate your special day with you.
Best of all? Booking this venue helps support aspiring artists studying at PAFA; so, your wedding won't just be memorable, it will play a role in shaping the future of Philadelphian art.
An extra touch: This eclectic venue sits in the middle of Philadelphia, providing a great central hub for reaching all the necessary amenities including parking, hotels, must-see tourist sites, and more.
See more from Elliot and Matthew's PAFA wedding, planned by Elegant Events and featured in the New York Times.
Barnes Foundation
In 1922, museum founder Albert C. Barnes created the Barnes Foundation in an effort to make art more accessible and understandable for people from all walks of life.
Viewing the vibrant and impressive Barnes art collection is just one of the many perks you can enjoy when you book this beautiful venue; your guests will love walking among the famous pieces by artists like Van Gogh, Picasso, Matisse, and other artists, both well-known and obscure.
If you have a hard time choosing between an indoor and outdoor venue, this museum was made for your wedding. It boasts not one but four different indoor/outdoor spaces: the Annenberg Court and Terrace, the Maguire Garden Pavilion, the Lower Lobby Suite, and the Garden Restaurant.
An extra touch: Hard to believe that a place so steeped in nature is only a few minutes from Center City — but it's true. You and your guests will love the easy access to downtown Philly and all of its amenities.
Rodin Museum





While technically part of the Philadelphia Museum of Art, we thought the Rodin Museum deserved its own spot on our top 10 Philly museum wedding venues.
This fantastic hidden treasure houses one of the largest collections of Rodin's art in the States. A breathtaking French-inspired garden (complete with a serene reflecting pool) and the intimate indoor galleries are studded with dozens of bronze, marble and plaster sculptors from one of the most notable names in the art world.
The Rodin Museum is one of our favorite small wedding venues in Philadelphia—both the museum and outdoor garden can hold up to 60 guests for a seated dinner.
An extra touch: A replica of Rodin's famous The Thinker sits at the front of the museum, providing a perfect photo op for you and your guests.
National Constitution Center
The National Constitution Center makes our top 10 Philly venues for its modern architecture and fascinating exhibits.
Pose with the life-size bronze statues of the U.S.A.'s founding fathers. Walk along the Overlook and enjoy the inspiring views from the wide windows. Say I do in the sunshine on the Rooftop Terrace, which overlooks the famous Independence Mall. No matter which space you opt for, you're guaranteed beautiful views, modern spaces, lots of natural lighting and an unforgettable experience.
The luxuriously large event spaces are perfect for couples who have plenty of guests coming. Even better, the timeless modern architecture is easy to style to fit your taste so that you can ensure your wedding looks just the way you've always pictured it.
An extra touch: Say hello to historic Philadelphia and see Old City as you've never seen it before; with grand windows set in a 60-foot-high ceiling, the view from National Constitution Center is just amazing.
Not sure which Philadelphia museum wedding venue is perfect for your big day?
Reach out to us! The Elegant Events team has planned hundreds of weddings in Philadelphia.  We want to put that experience to work for you! Let us be your guide in choosing your venue and throughout your planning process.