Our Elegant Events Planning and Design team is excited to see Philadelphia Wedding celebrating a milestone anniversary!
A twenty-fifth anniversary is an accomplishment for anyone, but for wedding publishing, it's HUGE. For the last two and a half decades, Philadelphia Wedding has featured beautiful Real Weddings from across the region. They showcase the best of the best, the hottest trends, and incredible expert advice.
They are the go-to in the Philadelphia, South Jersey, and Delaware regions on all things wedding.
Philadelphia Wedding – Real Weddings
This anniversary is even sweeter for our Elegant Events team as our couple, Brittney and Dwayne's Old City wedding is featured in the Silver Anniversary issue.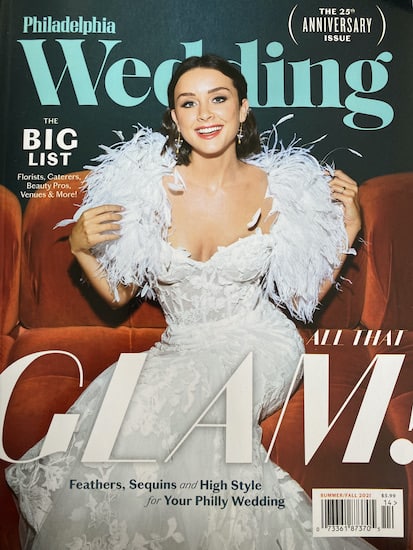 We loved this beautiful intimate wedding hosted at The Independence Visitor Center. Not to mention how magical their wedding portraits around the city are.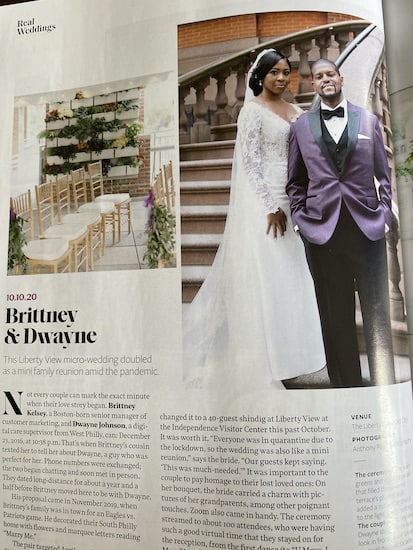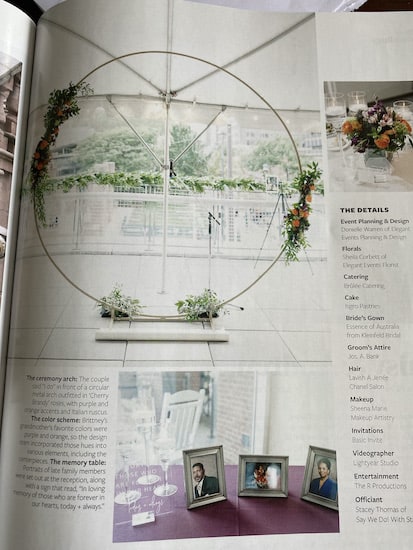 Because of the restrictions at the time, this beautiful Micro Wedding was live-streamed to friends and family across the country. It was wonderful for friends and family members to be part of the special day while not being there in person.
The Pursuit of Happiness in Old City
Don't miss out on the beautiful details of Brittney and Dwayne's wedding day on our Elegant Events blog post, The Pursuit of Happiness in Old City.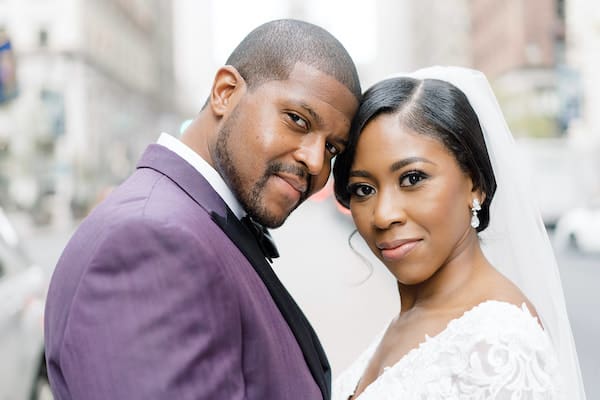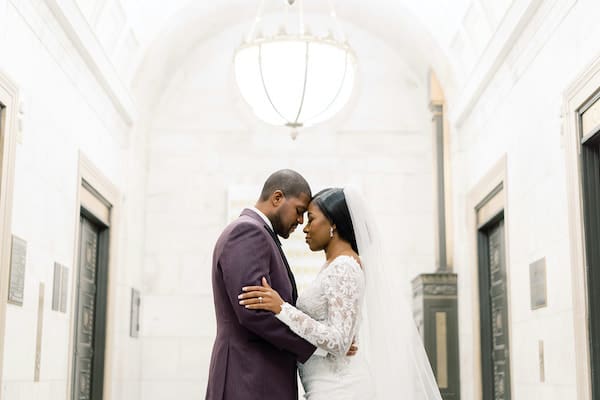 Brittney and Dwayne's Philadelphia Wedding Pros
Our Elegant Events team is proud to be featured with the fantastic local wedding professionals who made this wedding possible. We could not have done it without you.
Philadelphia Wedding Planner: Elegant Events Planning and Design
Philadelphia Wedding Venue: The Liberty View at Independence Visitor Center
Beauty: Sheena Marie Makeup Artistry, LLC
Beauty: Lavish A Jenée Chanel Salon
Catering: Brûlée Catering
Cinema: Lightyear Studio
Entertainment: The R Productions
Floral Design: Elegant Events Florist
Wedding Officiant: say We Do! with Stacey
Photography: Anthony Page Photography
Stationery: Basic Invite