Winter months in Philadelphia might seem like 'off-season' for weddings to many people. But for our Elegant Events Planning and Design team, that could not be farther from the truth.
Engagement season and meeting with newly engaged couples and their families always keep our team busy. Did you know that more couples get engaged between the Christmas and Hanukkah seasons and Valentine's Day than any other time of the year?
Additionally, destination weddings in warmer locations – like the Caribbean keep us busy as well.
And, in between, there are always planning and design sessions to iron out the details for upcoming Spring weddings!
So, we've kept plenty busy!
Featured in Philadelphia Weddings
As 2022 came to a close, Philadelphia Magazine chose to feature our clients Addie and Darnell's beautiful wedding. Their wedding at The Lucy was showcased in Philadelphia Weddings Winter / Spring 2023 issue.
This stunning wedding featured show-stopping entertainment and music. The decor was breathtaking, and the images are swoon-worthy. It's a feature you don't want to miss.
Best of The Knot 2023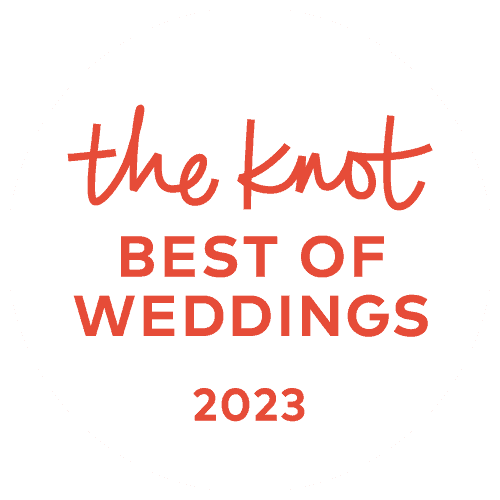 We are so thankful that our hard work has not gone unnoticed.
Earlier this year, our Elegant Events planning and Design team was named Best of Weddings 2023 by The Knot.
This prestigious award goes to a limited number of wedding professionals in each region based on their online reviews submitted by couples they have worked with in the past year.
We love our couples and are beyond thrilled that they love us back!
We're Trending For 2023
Bridal Guide tapped our Elegant Events Planning and Design owner and lead planner, Donielle, not once but TWICE this year. 
The first Bridal Guide feature, 'What's Trending For 2023 Weddings' highlighted expert planning advice and wedding trends from wedding pros across the county.
Here are a few of the tips and trends Bridal Guide chose from their interview with Donielle.
"Couples are planning as far out as 2024 to secure their destination wedding venue," says Donielle Warren, owner of Elegant Events in Philadelphia, PA. "The Caribbean remains a top pick, thanks to its all-inclusive resorts, effortless travel from the US, and bang for the buck."
Trust us; wedding venues book up quickly. There are only so many prime dates (Saturday nights) in a year. And, yes, all-inclusive Caribbean resorts are a favorite with couples and an incredible value.
Language Lessons – ¨We are watching our words more than ever. "Gone are the days of the 'bridal' party, as the newer terms are 'wedding party,' 'wedding attendants' or VIPs," says Donielle.
Our Elegant Events Planning and Design team has seen more and more couples choosing wedding attendants to stand with them regardless of their gender.
"Couples are taking their guest experience to the next level with live entertainment," says Donielle. "Our couples have enlisted live entertainment for the ceremony, such as a quartet, second line band for processions to the cocktail hour, a cocktail-hour band ensemble, large reception bands, and performances by recording artists for the bride's entrance and couple's first dance."
Addie and Darnell's is a beautiful example of this. But even smaller touches of live entertainment can make a big impact.
"After-parties are a must as many guests are looking to keep the night going," adds Donielle. "Some couples are foregoing a traditional honeymoon and inviting their wedding party to join them for the getaway. The couple then extends their vacation for a last moment of togetherness before returning home."
Enough said, because who doesn't love a good party?
Planners We LOVE!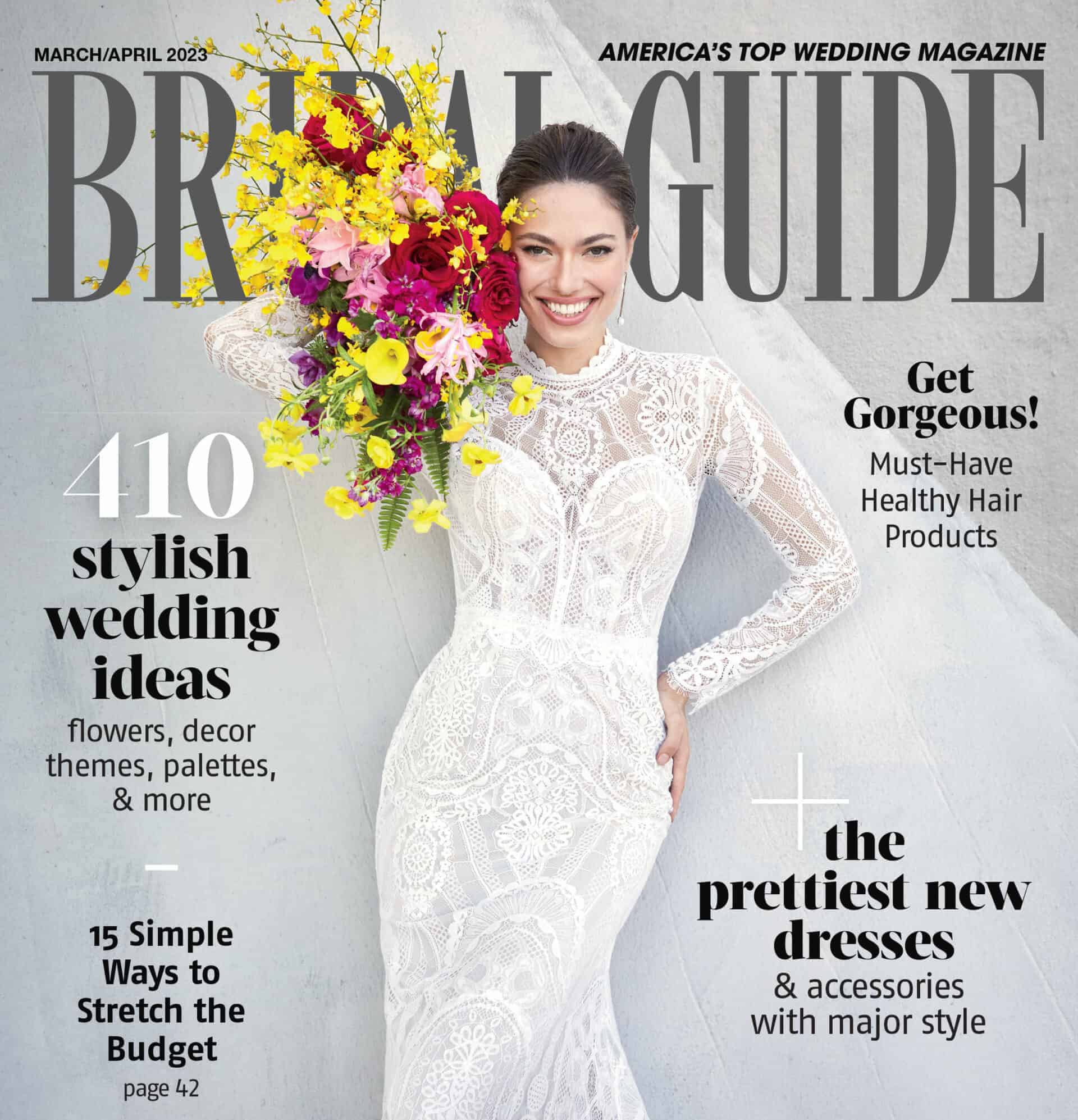 'Planners We LOVE' is an ongoing feature of the Bridal Guide. And our team knew it was a matter of time before they highlighted Donielle.
This feature in the Bridal Guide March / April 2023 issue just makes our whole team smile.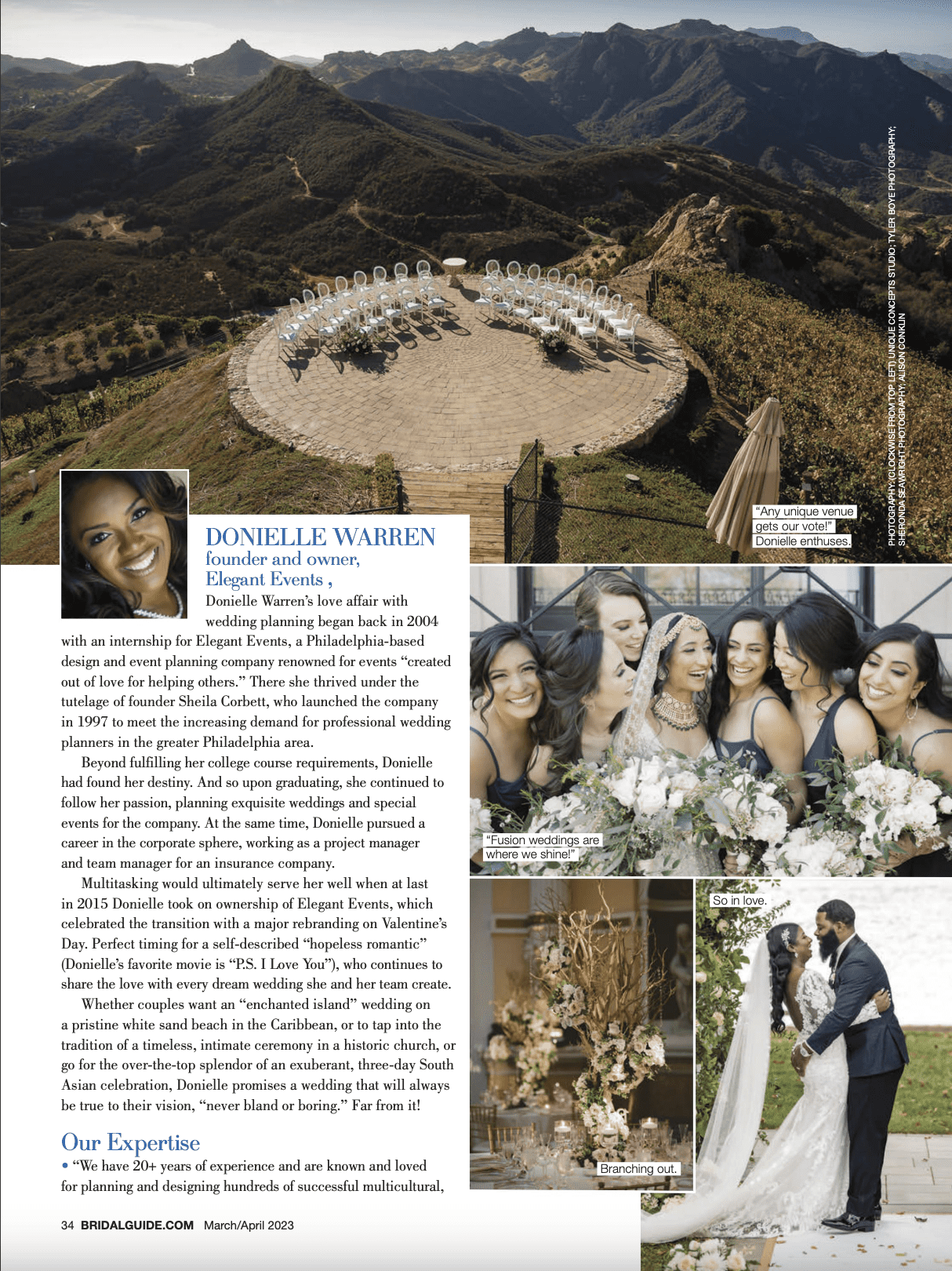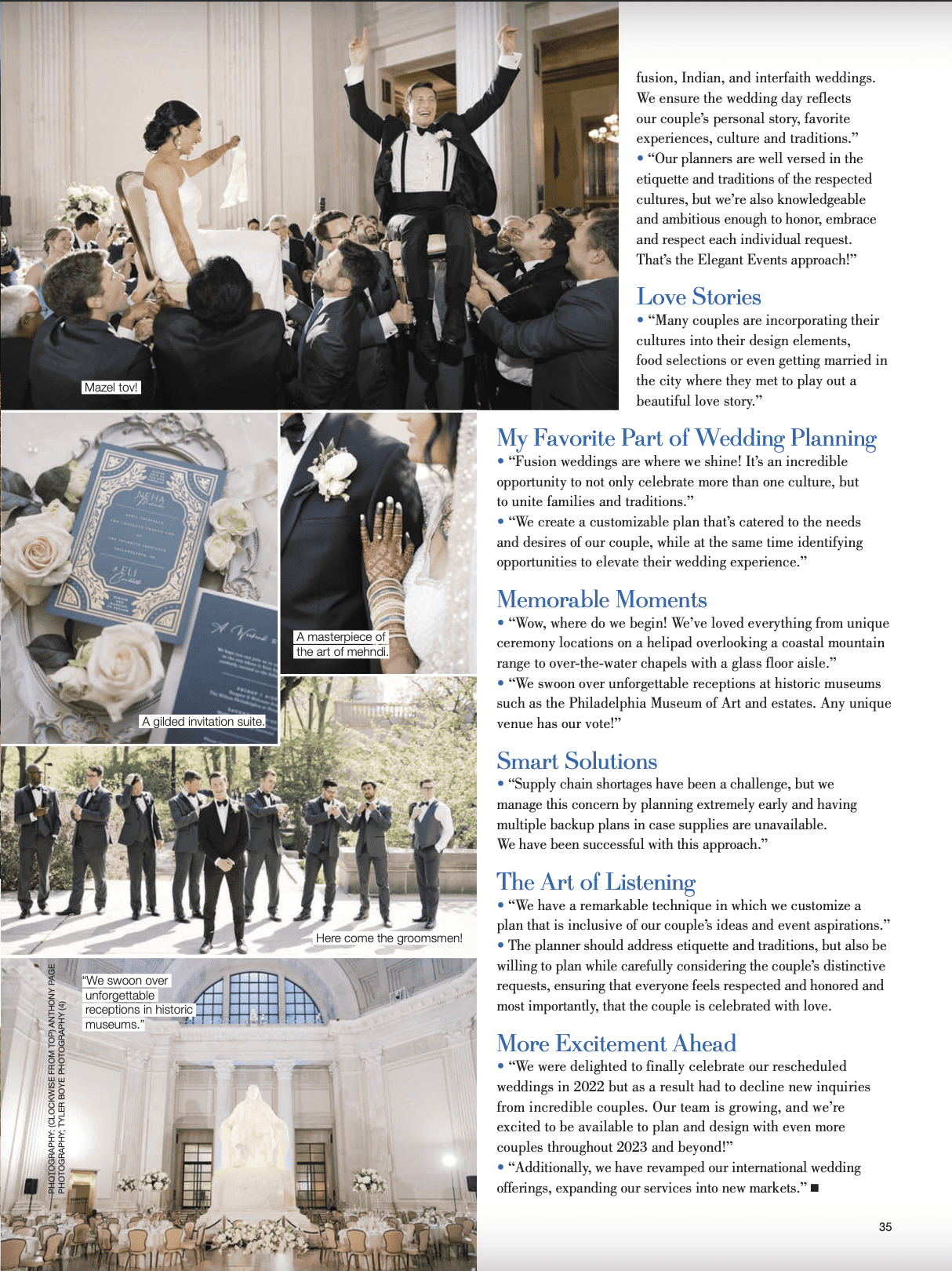 We're so honored that all of our hard work and dedication to our couples is being recognized. And we can't wait to see what the rest of 2023 has in-store! 
Featured cover image of Ariel and Dimitrios by Ryan Eda Photography