There are so many things that say iconic Philly wedding. There are few things our Elegant Events wedding planning team loves more than when couples ask us to help them include all things Philly.
What Says Philly to You?
Much like every couple we work with, everyone's ideas of what says Philly is different. Many couples want wedding portraits or to get married at famous Philadelphia locations. For others, it's about including Philadelphia's sports teams. For a large number of couples, it also includes some Philly taste treats.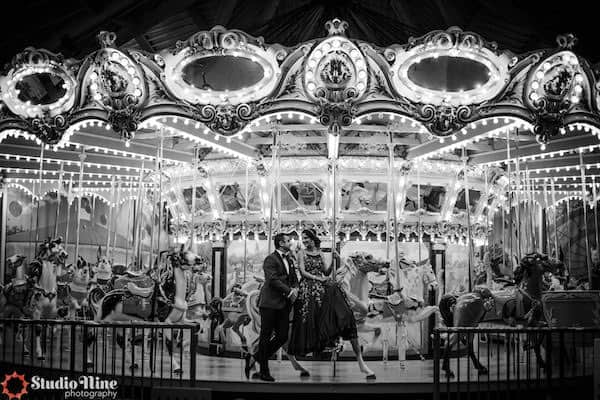 Part of what our team does is explore what says Philly to them and to help them find unique ways to incorporate their city into their wedding. Whether you're Philadelphia born and raised, came here for college, or moved here for work- there's something Philly for everyone.
Philly Photos
Regardless of the history or style of their wedding venue, a majority of couples want some kind of iconic Philly backdrop for their wedding photos. From that Broad Street photo in front of City Hall to the Philadelphia Museum of Art steps, the options are endless.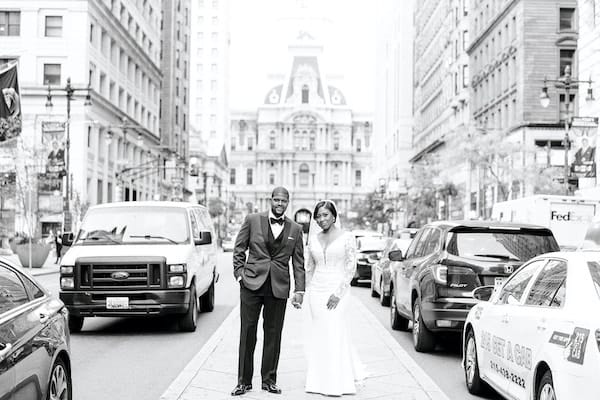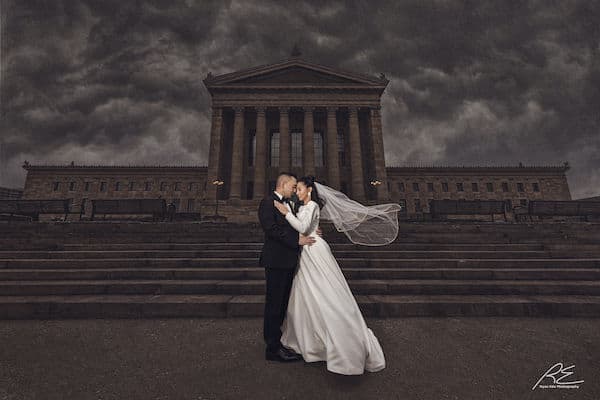 Here are a few ideas to consider for your wedding photos.
Mural Arts Philadelphia –
Did you know that Philadelphia has the nation's most extensive public art program? For over 35 years, Mural Arts has connected artists and communities to create some fantastic murals located throughout the city. Check out their interactive website to find murals in a neighborhood where you're getting married.
The Official Trail of Philadelphia's Historic District –
The Official Trail of Philadelphia's Historic District a search tool of VisitPhilly.com  is a list of twenty-three locations across Philadelphia from the Delaware River to Seventh Street.
Not only are there unique places for photos like the steps of the Second Bank of the United States, but there are also many locations that can host weddings. This tool is also great for sharing on your wedding website for out of town guests. It's an excellent way for guests to explore our history while in town for your wedding.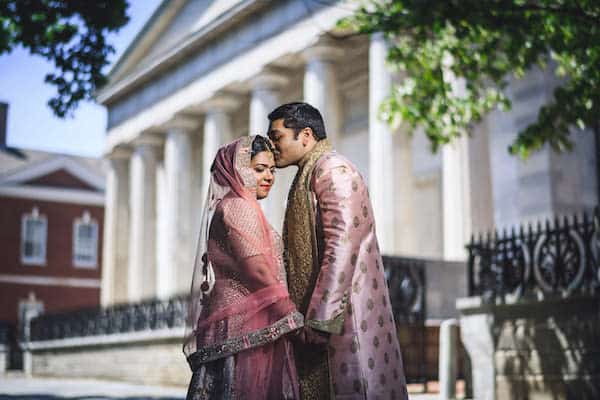 Eagles, Phillies, and Flyers
For many people, nothing screams Philly like our sports teams. Lots of couples include the Philadelphia sports team's logos on their wedding day. Bredenbeck's Bakery in Chestnut Hill has created incredible wedding cakes, logo themed cookies, and even cool cakes that might be the perfect groom's cake.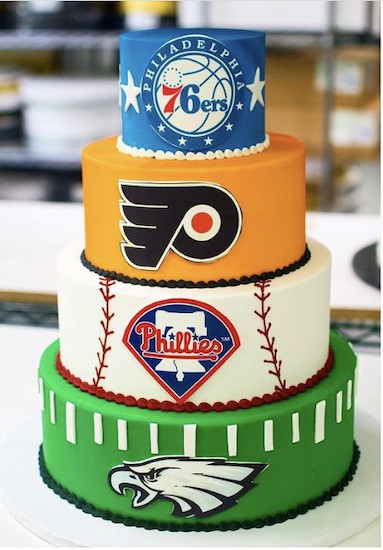 Image from Bredenbeck's website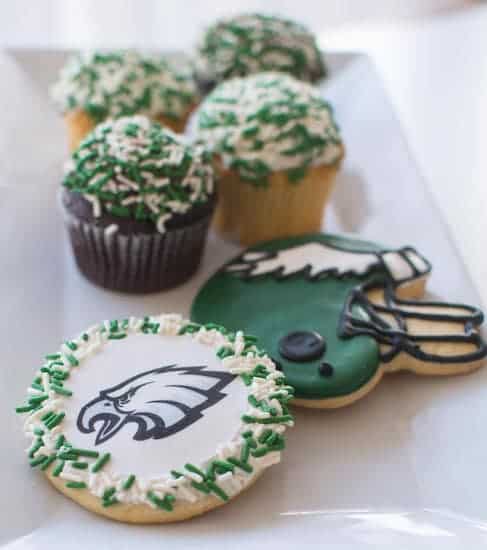 Image from Bredenbeck's website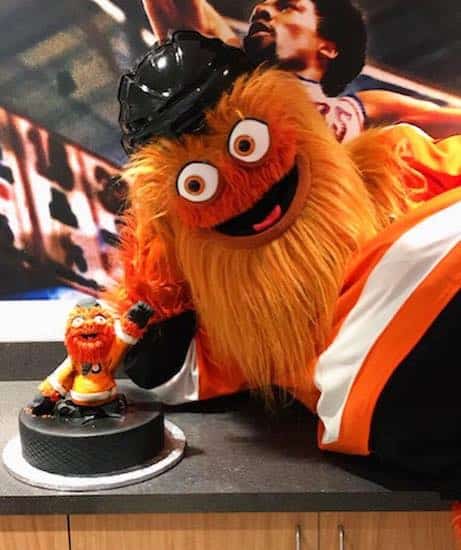 Image from Bredenbeck's website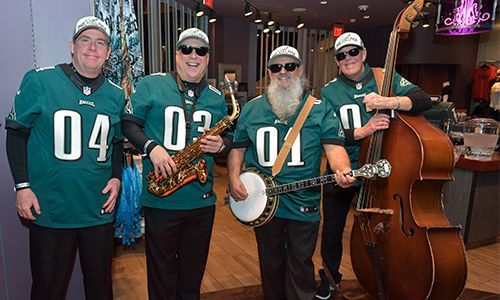 Image from Philadelphia Eagles Pep Band website
Sports mascots like SWOOP, the Phillie Phanatic, and others can be booked for wedding and event appearances as well. If Philadelphia colleges or their sport's teams are more your styles, many local college mascots make appearances as well.
Food Glorious Food!
Ask most visitors to Philly something about our city, and they are likely to mention cheesesteaks or soft pretzels. While they are absolutely correct about their popularity, we know there's so much more to Philly. They also make for great late-night snacks.
Soft Pretzels –
Center City Pretzels, a Philadelphia pretzel bakery, not only makes delicious traditionally shaped soft pretzels, but you can get them shaped like hearts, shamrocks, or a sports team logo. You can even have your names spelled out in pretzels if you want!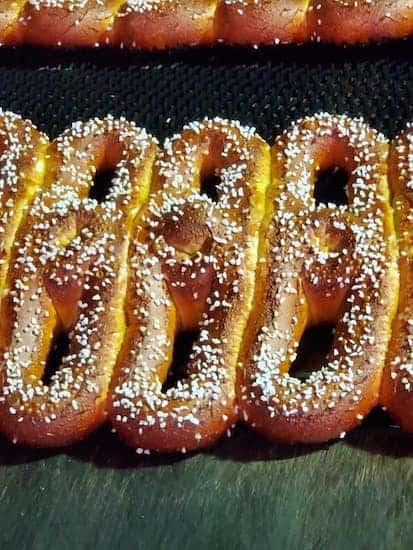 Image from the Center City Pretzels website
Cheesesteaks –
The Original Tony Luke's in South Philly can be an excellent option for getting cheesesteaks as late-night snacks. While many of the fantastic cheesesteak shops will do the trick; this one could introduce your wedding guests to the wonders of roast pork and sharp provolone too!
Craft Beers and Spirits
The popularity of craft beers and liquors has grown in leaps and bounds in the last few years. You might want to consider including some of the Philadelphia favorites on the bar.
Yards Brewing Company–
Yards has been brewing some of Philly's beer since 1994. If you are really a craft beer enthusiast, their Spring Garden brewery also hosts weddings and events!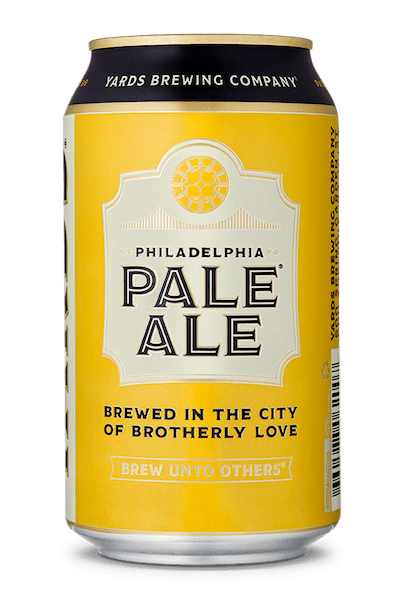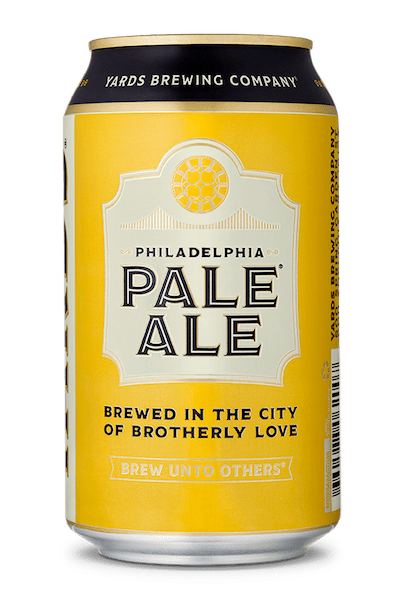 Image from Yards Brewing Company website
Liberty Gin–
W.P. Palmer Distilling Co in Manayunk produces the incredible, award-winning Liberty Gin. Made from an Old Dutch recipe with ties to the spice trade during the American Revolution. This gin is widely available across the region.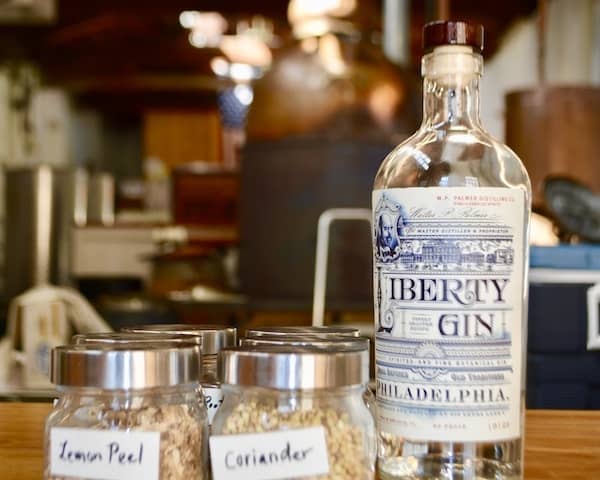 Stateside Urbancraft Vodka–
If vodka is more your thing, Stateside Urbancraft Vodka  is worth checking out. They are Philly's favorite hometown vodka and have won several craft spirit competitions.
Still Hungry?
What about a little something sweet to end the night? Who doesn't like Milk and Cookies? Our couples LOVE insomnia cookies – did you know they started in a dorm at the University of Pennsylvania? https://insomniacookies.com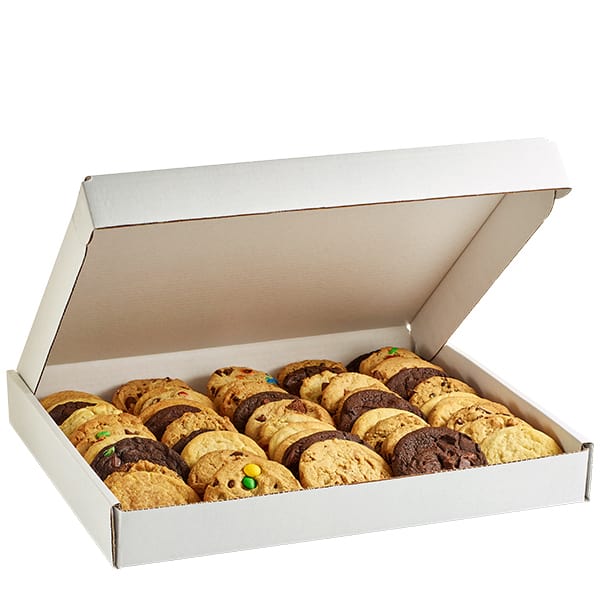 Image from Insomnia Cookie's website
Federal Donuts is another iconic Philly sweet treat and is perfect for a goodnight kiss at your wedding.
More Iconic Philly Ideas
Did you know that many of Philadelphia's String Bands will make appearances at your wedding reception? How about last year's award-winning South Philadelphia String Band?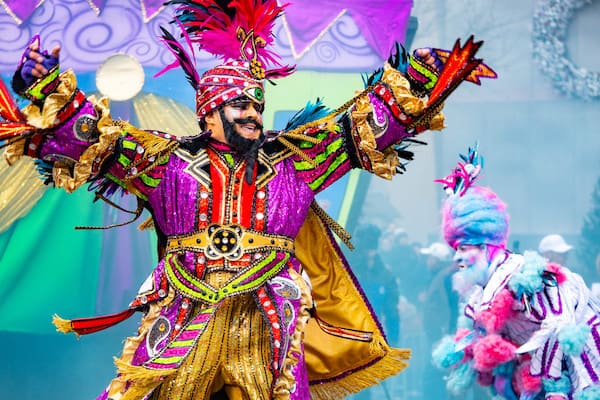 Image from the South Philadelphia String Band website
Welcome your out of town wedding gifts to Historic Philadelphia with PA General Store's Meet Me At The Liberty Bell welcome bag? This gift bag has two Hank's Root Beers, a Tastykake Butterscotch Krimpet, a Chocolate Cupcake, a Chocolate Liberty Bell, Chocolate Covered Pretzels, Utz Potato Chips, Nine Variety Pretzel Mix, and Goldenberg's Peanut Chews.
Whether you are looking for a wedding venue in the heart of Philly or including something special on your wedding day, our Elegant Events team looks forward to helping you make your wedding iconic!